MIA Connections E-Magazine - Fall 2009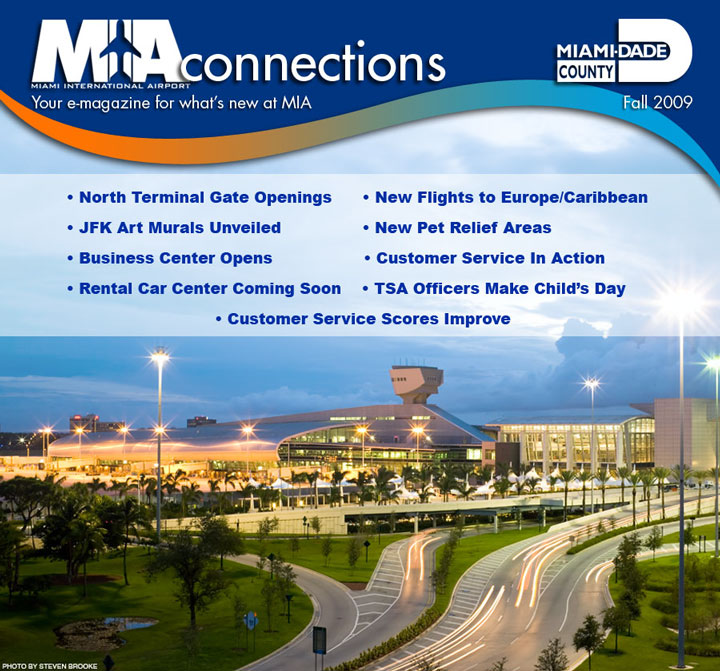 MIA Connections: Fall 2009 - Spring 2010 - Summer 2010 - Fall 2010

MORE NORTH TERMINAL AREAS COMPLETED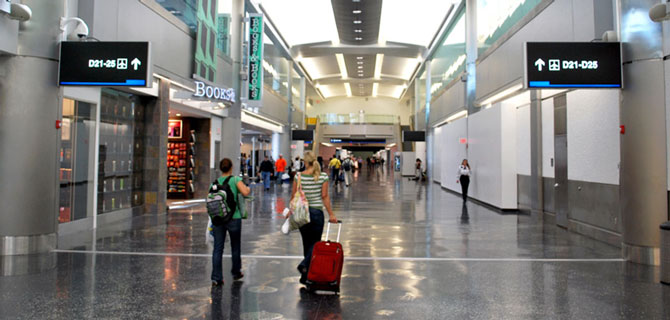 MIA's North Terminal continues to move rapidly toward completion in 2011 with its most productive year to date in 2009. Five new gates opened for service in June and August and two renovated gates opened in July – all according to schedule. The revised construction schedule is on track for most of the remaining work at North Terminal, including the re-opening of Concourse A and the beginning of automated people mover operations, to be completed next summer.

A new, 216,000-square-foot area that includes new gates D-24 and -25 opened on June 5, and gates D-21, -22 and -23 opened in July. Gates D-31 and -32 also re-opened in July after being closed because of construction in the surrounding area. In addition to new gate areas, stores and restaurants now available in North Terminal now include Au Bon Pain, Books and Books, Coffee Beanery, Dunkin Donuts, two Duty Free Americas locations, Hudson News, Indulgence (bath and beauty products), La Carreta, Newslink, Sushi Maki and Trade Winds Bar.

The seven gate openings in 2009 follow the completion of five gates in 2008. Only eight new North Terminal gate areas now remain to be built before the project's scheduled completion in March 2011. When the 16 gates in Concourse A re-open in 2010 after a three-year hiatus because of nearby construction, North Terminal will be a 50-gate super hub handling 70 percent of MIA's passengers.

WORLD FAMOUS ART MURALS UNVEILED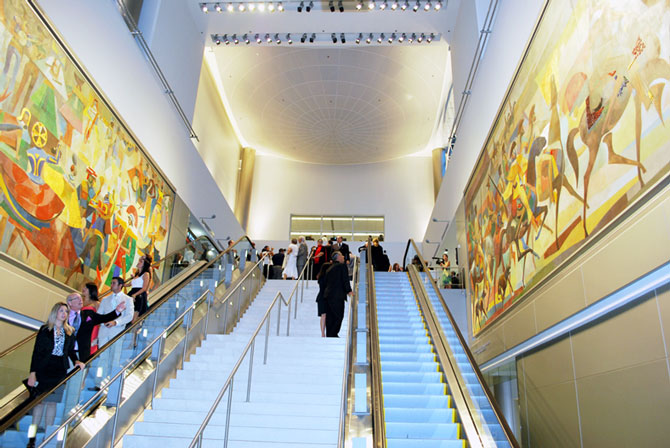 The world-renowned Carybé art murals, fixtures at JFK Airport since 1960, were unveiled at MIA's South Terminal in June and are on permanent display between the second and third levels of the facility's pre-security area. South Terminal encompasses concourses H and J and serves 20 international and domestic airlines.

The two murals, "Rejoicing and Festival of the Americas" and "The Discovery and Settlement of the West," are considered two of the most important works of art on display at any U.S. airport. Each measures 16½ feet x 53 feet and depicts scenes of festivals and pioneer life in the Americas.

The murals ran the risk of being destroyed when the terminal housing them at JFK was slated for demolition in 2007. Odebrecht, the contractor that built MIA's South Terminal and is schedule to complete the North Terminal and MIA Mover projects in 2011, invested in the preservation, removal, restoration, transportation and re-installation of the murals in Miami. An agreement signed in June 2008 transferred ownership of the Carybé murals from American Airlines to Miami-Dade County.

"Odebrecht is proud to see this special project come to completion. Thanks to our partnership with Miami-Dade County and American Airlines, and our commitment to building communities, MIA is now home to two great pieces of art that serve as a legacy honoring all who have journeyed throughout the Americas," said Gilberto Neves, CEO of Odebrecht in the USA.

"Carybé's artwork mirrors our community's diversity and vibrant lifestyle. Miami International Airport, which welcomes thousands of worldwide travelers daily, is the ideal place to showcase this masterpiece," said Miami-Dade County Mayor Carlos Alvarez.

"We feel extremely honored and privileged to receive these art treasures from American Airlines and Odebrecht," said Miami-Dade Aviation Director José Abreu. "As the Gateway of the Americas, MIA is the perfect place for Carybé's murals, and we look forward to being their home for generations to come."

"We are very excited to have been a part of the team that enabled these iconic works of art to be housed at MIA," said Peter J. Dolara, American Airlines Senior Vice President. "Visitors traveling through the terminal will be able to appreciate the significance of these murals and take with them a little piece of aviation history."

For additional information, visit www.CarybeAtMIA.com.

SOUTH TERMINAL BUSINESS CENTER NOW OPEN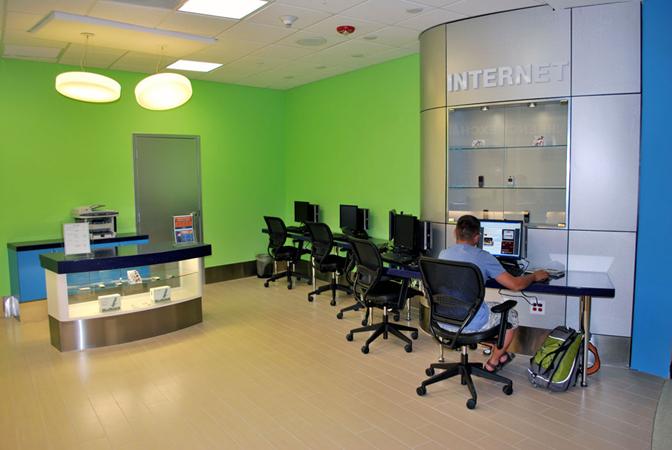 Passengers in Miami International Airport's South Terminal now have a one-stop location where they can fax or photocopy an important document, rent a mobile phone for use in the U.S. or abroad, or even hold a small business meeting in between flights - all without leaving the airport.

Located past security between concourses H and J, the International Currency Exchange (ICE) Business Center opened in July and features: five computers with internet access and printing capability; a fax machine with domestic and international service; a photocopy machine; a conference room that can accommodate up to 10 people; currency exchange service; pre-paid domestic and international calling cards; cellular phone rentals; and pre-paid SIM cards for passengers to use with their existing cell phones.

Also available for purchase at the Center are travel insurance plans to cover medical expenses and other costs associated with a flight accident, car rental accident, lost or delayed baggage or a cancelled or interrupted trip. Plans are available at per-trip or annual rates.

The Business Center is the latest addition to the two-year-old South Terminal facility, which serves passengers from 20 domestic and international carriers.

Clothing retailers Hugo Boss and Cubavera opened a joint location in May in the 1,000-foot-long concession hall past security that also features: 10-Minute Manicure; Bijoux Terner; Brookstone; Duty Free Americas; Island Styles clothing boutique; L'Occitane; Havana To Go gift shop; Navarro pharmacy and gift shop; Rosetta Stone; Sunglass Hut; Sunglass Icon; Sweet Factory; and a Taxco Sterling jewelry store.

Opening in May as well in the 8,900-square-foot South Terminal food pavilion that overlooks the MIA airfield were Gilbert's Bakery and McDonald's, which joined six other food pavilion options: Bongos Cuban Café; Famous Famiglia Pizzeria; Haagen Daz; Island Chicken Grill; Italian coffee shop Illy; and La Pausa Restaurant.

South Terminal now features more than 30 retail, dining and duty-free concession locations pre- and post-security for travelers and visitors to enjoy.

RENTAL CAR CENTER SET TO OPEN APRIL 2010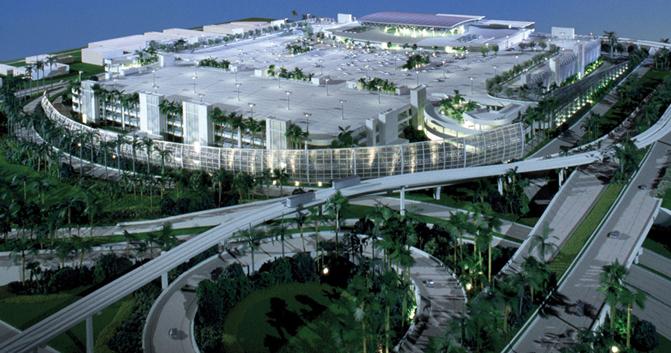 After years of preparation and over two years of construction, the opening date for the Miami Intermodal Center (MIC) Rental Car Center (RCC) is in sight. Currently, it is scheduled for April 2010, after which the facility being built by the Florida Department of Transportation (FDOT) will be owned by the Miami-Dade Aviation Department (MDAD). A consortium of 16 rental car companies will maintain and operate the facility on behalf of MDAD.

A consolidated shuttle service will run between the RCC and Miami International Airport (MIA), eliminating the curbside congestion caused by the individual company shuttles that now constantly circle MIA's lower level and reducing congestion by 30 percent.

The shuttle service will be replaced in 2011 by the MIA Mover, an automated people mover system with the capacity to transport more than 3,000 passengers per hour between MIA and the RCC.

The massive structure just east of Le Jeune Road has four levels, each 20 acres in size, with space to accommodate up to 6,500 vehicles and 20 rental car companies. The first three levels are dedicated to storage and maintenance operations and the fourth will accommodate a spacious service lobby where customers can compare offers and choose the best option – a virtual rental car shopping mall. All rental car companies currently operating inside MIA and many located nearby will relocate into the RCC, where each will have its own sales counter. For more information, visit http://www.micdot.com.

NEW FLIGHTS TO EUROPE AND THE CARIBBEAN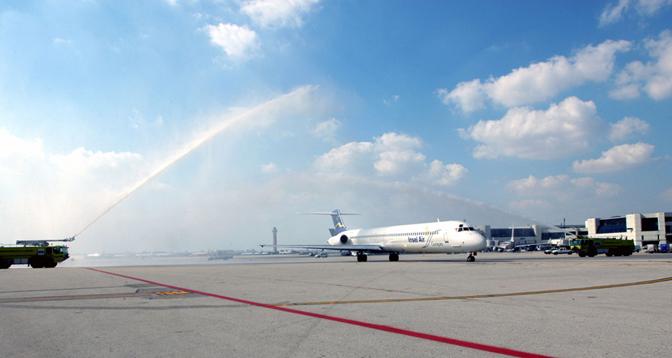 Insel Air's inaugural arrival at MIA from Curacao in November 2008 received a water cannon salute
from the Miami-Dade Fire Rescue. Insel added service from Bonaire to MIA on July 4, 2009.
On Saturday, July 4, Miami International Airport welcomed the inaugural flight of Insel Air from Bonaire, Netherland Antilles to Miami - the only nonstop service between the Dutch Caribbean island and any U.S. city.

Bonaire is the fourth island in the Netherland Antilles with nonstop service from MIA, joining Aruba, Curacao and St. Maarten. Curacao-based Insel Air, which began operating at MIA in November 2008, will provide once a week service to Bonaire every Saturday and also operates flights from MIA to Curacao five times a week. MIA now has non-stop flights to 28 destinations in the Caribbean and continues to have more flights to Latin America and the Caribbean than any other U.S. airport.

Insel Air is just the latest airline to begin or expand service at MIA this year. On June 20, Air Europa began once-a-week, nonstop service to Tenerife, Canary Islands, Spain - the only nonstop flights from Tenerife to any U.S. city and MIA's ninth European non-stop passenger route.

American Airlines, which bases its Latin American and Caribbean operations at MIA and is the airport's largest carrier, continues to expand its MIA hub by adding new or additional service to more than 40 domestic and international destinations beginning in November.

WestJet, Canada's largest low-cost carrier, is scheduled to begin daily nonstop service to Toronto starting in October, and Finnair plans to begin seasonal, nonstop service to Helsinki once a week between November 2009 and March 2010.

NEW PET RELIEF AREAS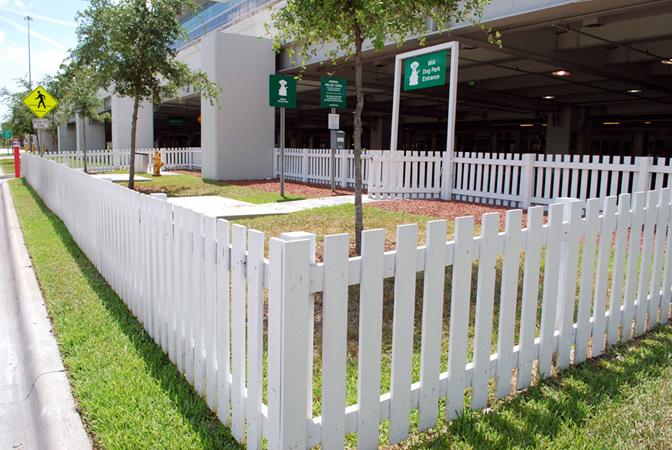 Four pets relief areas, two of which are pet parks, are now available at MIA. The pet parks are fenced in and have benches for owners to relax. The pet park locations are at the baggage claim level at concourses F & J and the pet relief areas are located at the baggage claim level across from concourses D and J. All relief areas have dual surfaces for animal relief and disposable bags for animal by-products.

MIA GIVES SPECIAL WELCOME TO UK FAMILY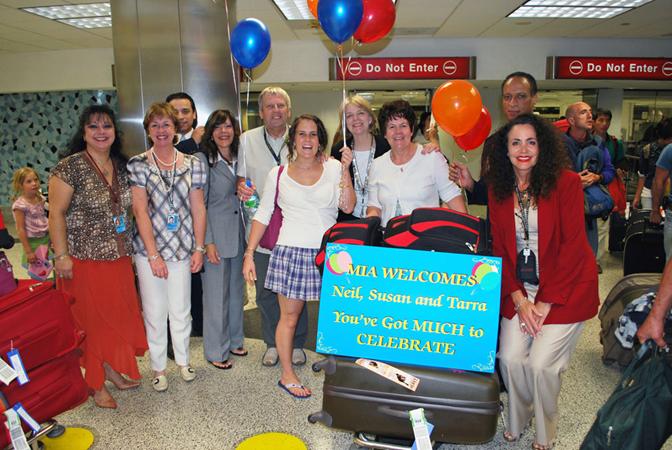 Neil and Susan Chandler's trip from England to MIA three years ago was a hectic one. A security concern at U.S. airports had resulted in travel congestion and fear at many large airports, including MIA. Miami-Dade Aviation Department Deputy Director Max Fajardo, Terminal Operations and Customer Service Division Director Dickie Davis and Security, Operations and Communications Assistant Director Lauren Stover assisted the Chandlers then and invited them to return to MIA sometime in the future to see how the airport functions under normal circumstances. The Chandlers vowed to take them up on that offer. On August 21, that reunion took place when the Chandlers returned to Miami to celebrate their 30th wedding anniversary, Neil's 60th birthday and his 30th anniversary working on the railroad in the UK. MIA official were waiting in the international greeter's lobby with a welcome sign, balloons and a big MIA Welcome!"How fab!" said Karra, the Chandler's daughter. "Wow, we never expected this!"

JULY 2009 EMPLOYEES OF THE MONTH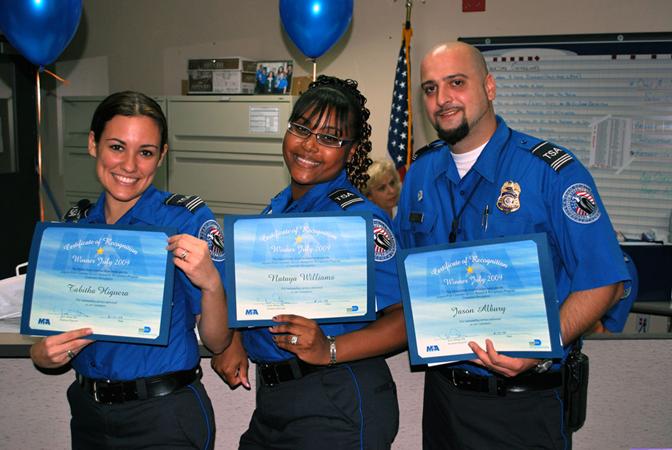 From left: Tabitha Higuera, Supervisory Transportation Security Officer; Nataya Williams, Lead Transportation Security Officer;
and Jason Albury, Supervisory Transportation Security Officer
On their way to Checkpoint F, Transportation Security Administration (TSA) Officers Tabitha Higuera and Nataya Williams noticed a five-year-old boy crying and learned that his shoe had been damaged. After the boy and his family proceeded to gate F-5, the officers bought a pair of shoes for him with their own money and brought it to the family. TSA Supervisor Jason Albury witnessed the accident as well as the actions of his co-workers. He went to the family's departure gate, obtained the details of the incident from the family for the Employee of the Month nomination. The child's mother was moved to tears by the actions of Officers Higuera and Williams and commented that since there was no store past security in Concourse F that sold shoes, her son would have had to travel in socks if not for the two officers.

MIA's CUSTOMER SERVICE IMPROVING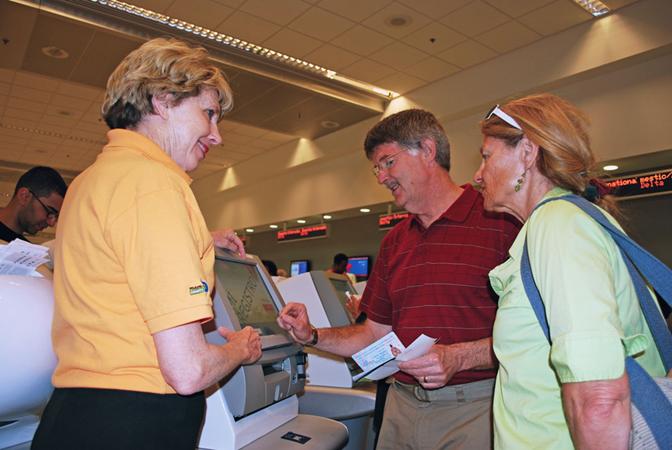 In MIA's 2009 customer satisfaction survey, conducted by Unison Consulting, Inc., more than 3,000 airport customers (including departing and international arriving passengers and meeter/greeters) gave the airport improved scores compared to last year. Survey participants were asked to rate their experience at MIA according to various categories including: Getting to MIA; Check-in at MIA; Security Check; Getting Around MIA; Airport Facilities; Food and Beverages; and Retail Shops.

On a scale of one to five, with five being "very satisfied," the overall score among international arrivals jumped seven percent from 3.89 to 4.16, most likely a result of recent improvements such as: the opening of South Terminal in late 2007; a welcome video produced by Disney for the federal government that is played on large-screen monitors in the passport control areas; and the launch of the federal government's Global Entry program, which expedites the inspection process for registered international travelers. The score among meeters and greeters at MIA improved six percent from 3.47 to 3.68. Among meeters and greeters, the Getting Around MIA category ranked highest at 3.86, up from 3.5 last year, and Airport Facilities was next at 3.84, up from 3.62 in 2008. Departing passengers gave MIA an overall satisfaction rating of 3.57, up two percent from 3.50 last year. Ranking highest among departing passengers were the categories of Check-in and Security Check, which scored 3.74 and 3.72, respectively.

In one effort to continue the customer satisfaction improvements, the Miami-Dade Aviation Department is partnering with the Greater Miami Convention and Visitors Bureau and the Miami Beach Visitor and Convention Authority to provide mandatory customer service training to all of MIA's 30,000-plus employees beginning this fall.
MIA Connections: Fall 2009 - Spring 2010 - Summer 2010 - Fall 2010