Recent Past Exhibitions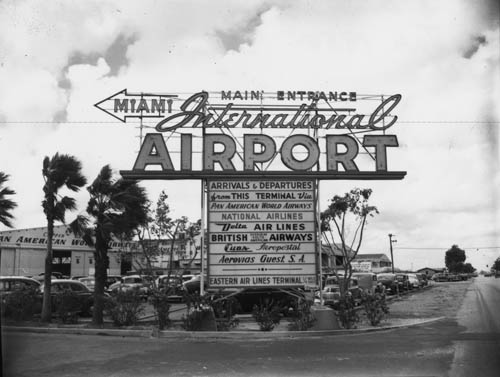 Main entrance to Miami International Airport's 36th St. Terminal,
January 1950, City of Miami Collection.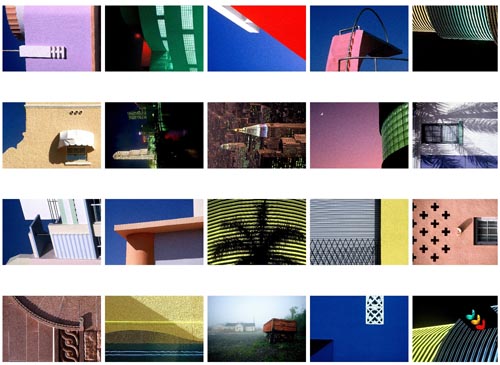 20 photos 10 years
palma photographs

Over the course of ten years, Miami architect photographer James Palma entered photos into the National American Institute of Architects' (AIA) annual photography competition. A total of twenty photographs, for ten consecutive years, were selected as winners. Each year the winning photographs were exhibited at the National AIA Convention in ten different cities in the United States. The photographs were also included in the Architecture Calendar, three of them on the cover.



Silvia Lizama

Hand-Colored Photographs


Image: Barbershop TV, Manaus, Brazil 2011

15" x 15" hand-colored, gelatin-siver print

Courtesy of the MOSQUERA COLLECTION

A selection of hand-colored black and white photographs from South Florida, Latin America and Spain.


February 2013
Gates 22 and Gate 25
| | |
| --- | --- |
| | Located in the heart of Miami's Design District is the nationally recognized Design Architecture Senior High (DASH). Mia Galleries invited DASH to participate in an exhibition celebrating the 2014 FIFA World Cup hosted this summer in Brazil. Thirteen of the most talented seniors were selected to design + create a visual celebration of soccer's most prestigious upcoming international event. The title "Show Your Colors" kick started the idea visually, while the students worked together to design each panel. The goal and challenge was to capture the World Cup's atmosphere, emotion, and awesome sport of soccer. |
La Sirena A Call for Transformation

This invitational, composed of artists that have previously exhibited in mia Galleries, offers an opportunity to consider and discover the deeper meaning of the mermaid. Real or fictional, this hybrid, imaginative creature has been roaming around our psyches for millennia, enduring symbolically in myth and culture, from oral folk traditions to high art, and continues to have a detectable role in contemporary society. - continue.
Mermaids have long captured the imagination of mariners and artists alike. They inspired Sandro Botticelli's painting The Birth of Venus (1486) and Hans Christian Andersen's fairy tale The Little Mermaid (1837). These curious creatures have been the subject of literary and visual works, appearing throughout history in Mesopotamian carvings and Greek vases to modern art, literature, music and film. - continue.

Leaving A Legacy presents a unique collection of high design handcrafts, showcasing an astonishing display of ingenuity and imagination. Recycling is an important factor in these works as artists have found ways to utilize and transform discarded materials, incorporate found objects and develop natural resources responsibly- continue.

Inspired by the idea that design responds to time-oriented changes in the environment, the works in this exhibition are a poetic allusion to the impermanence of existence, an acknowledgment that time is a human concept. Many of the works, which blur the line between art and design, encourage an examination of one's own movements and place in space and time, while others incorporate the concept of time within the design itself. - continue.

Street art is the visual art that develops in public spaces – that is, "in the streets" – and the term can include sculpture, stencils, sticker art, wheat-pasting and street poster art, just to name a few. The term "post-graffiti" is used to distinguish contemporary public space artwork from vandalism and corporate art. - continue.

The Highwaymen
Florida's Landscape Painters
featuring paintings from The Brewer Collection

Florida, from its earliest days, was seen as a tropical paradise where the brilliant sunshine and crystalline blue skies would dissolve away all of one's worldly concerns - continue.

A photographic exhibition created by North Carolina photographer Jerry Taliaferro, designed to honor the physical and spiritual beauty of the Black American woman, emphasizing her soulfulness - her spirit of hope, compassion, love and nobility - continue.

Carnival Arts
Celebration and Transformation

Carnival is a time of celebration. For the past six years, the Carnival Arts program has helped teens living in youth crisis shelters across Florida celebrate life. The teens learn drum and dance traditions from West Africa and Venice to Cuba, the Dominican Republic, Haiti, Jamaica, and Trinidad to Brazil, Colombia, Mexico, and Peru. They make masks and costumes that hide their identities, and reveal how they feel about themselves and their world - continue.
For more information about Miami-Dade Aviation Department's Division of Fine Arts and Cultural Affairs, email us or call 305-876-0749.
Community Projects