Miami-Dade Aviation Department
Miami International Airport
Division of Fine Arts & Cultural Affairs
Presents
Cheryl Maeder
Dreamscapes Series
Camera Works Gallery, Gate D22
Opens September 2016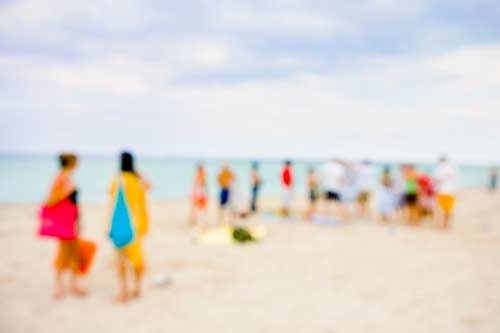 Cheryl Maeder, Beach Series X (ed. 6/10), color photograph, 2006
Cheryl Maeder's Dreamscapes Series is a collage of saturated memories from her early childhood infused with Maeder's expanding adventures from her travels and everyday life. Maeder's defining moment came while traveling through the Costa Brava coastal towns of Spain where she began experimenting using her camera as a painter uses a paintbrush. Seeing the world through painterly eyes, she began to deeply explore the relationship between the familiar and the abstract. Her goal is for the viewer to see the world within a larger reality suggesting that what appears to be clear and in focus, is only our perception. This gives tension and mystery to her images.
Cheryl Maeder is a fine art photographer & filmmaker born in Elmwood Park, New Jersey. Her work is in permanent museum collections, and her photographs and video installations have been exhibited internationally at major art fairs and in public art installations. Maeder lives and works in South Florida.
Cartographies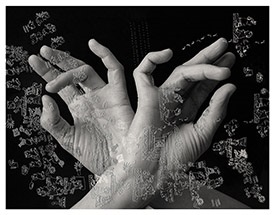 March – September 2016
Camera Works Gallery, North Terminal, Gate 25

Tatiana Parcero, Re-Invento #18, 2005, acetate and giclee print, courtesy Dina Mitrani Gallery
Tatiana Parcero is a photo and video artist whose work explores the corporeal as a map where she can relate to ideas as different as identity, memory, territory, time and migrations. Blending various techniques and visual media, the photographic work explores hand gestures and postures with ideas of mystical experimentation, contemplation and the human experience of various scientific and religious concepts. Using the technique of superimposing acetates onto photographs, the images have two layers of visual information that stimulate the desire to explore deeply into the pictures.

Tatiana Parcero has a BA in Psychology from Universidad Nacional Autónoma de México and an M.A. with studies in Art Theory and Photography from New York University/International Center of Photography (NYU/ICP). For the past 27 years, she has exhibited nationally and internationally in solo and group shows at venues including: The Museum of Modern Art (NY); Museum of Contemporary Art (Tokyo, Japan); Lowe Art Museum (Miami, FL); Houston Center of Photography (Houston, TX); Museum of Latin American Art (Long Beach, CA.); The Mexican Museum (San Francisco, Ca.); and the Biennale of Havana, Cuba, to name a few. She currently lives and works in Argentina.
mia Galleries
It's Our World
Created by L.E.T.S. Draw students: Aaron Ashe, Dominique Byrd, Aesha Coleman, Charlotte Graham, Khyree Joseph, Kheyana Joseph and Nathaniel Perverdera.



South Terminal H, 2nd level