Camera Works

Miami-Dade Aviation Department
Miami International Airport
Division of Fine Arts & Cultural Affairs
Presents
Scott Weber
The Orchid Series 2006-2011
Palladium-toned Van Dyke Photographs
opens May 2015
North Terminal, Gates D22 – D25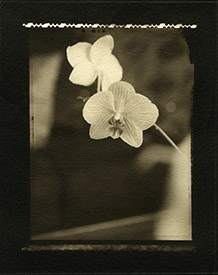 Scott Weber, Orchid #24, palladium-toned Van Dyke photograph
Process has always been a central component in my work. As the photographic world turns toward the electronic image for its speed and convenience, I have begun to reevaluate how I picture the world. The Van Dyke print is created by hand coating a sheet of fine art paper with a solution of iron and silver. The negative is placed in direct contact with the paper and exposed to sunlight. After processing the image, it is toned with palladium, a precious metal, which gives its warm color. I am attracted to the unique and authentic process of making an image by hand. This is also one of the most permanent image-making processes known because of the use of precious metals. I enjoy making photographs that speak with a soft voice, that reflect simplicity in both composition and content. - Scott Weber

Born in Los Angeles, California, Scott Weber earned both the Master of Fine Arts and the Bachelor of Fine Arts in Photography at the San Francisco Art Institute in San Francisco, California. His photographs have been collected by museums and used to illustrate documentary projects for historical purposes as well as exhibited in galleries. The use of the view camera and traditional photographic techniques helps define his personal style. Recently, he has begun to use historical processes such as platinum/palladium and Van Dyke printing and has exhibited these new images in Europe and North America. Weber is an Associate Professor of Photography in the Department of Fine Arts at Barry University in Miami Shores, Florida.
For more information on this exhibition, please contact the Miami-Dade Aviation Department's
Division of Fine Arts and Cultural Affairs at 305-876-0749.
It's Our World
Created by L.E.T.S. Draw students: Aaron Ashe, Dominique Byrd, Aesha Coleman, Charlotte Graham, Khyree Joseph, Kheyana Joseph and Nathaniel Perverdera.



South Terminal H, 2nd level