Cargo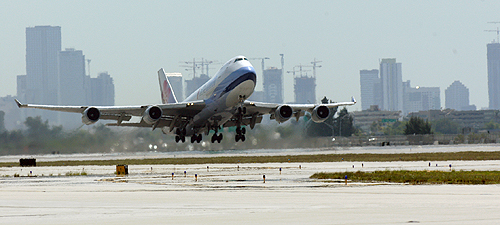 Photo by Miami-Dade Aviation Dpt.
A leader in the Americas in international freight and the world's largest gateway to Latin America & the Caribbean, MIA controls the north / south cargo flows in the Western Hemisphere. Handling 84% of all air imports and 81% of all exports from the Latin American / Caribbean region, MIA serves as the hub for distribution of perishable products, hi-tech commodities, telecommunications equipment, textiles, pharmaceuticals and industrial machinery. During 2014, airport rankings show MIA as the leading airport in the United States for international freight, and among world airports, MIA ranked 10th in international freight.
MIA Cargo Brochure
Pharma Hub Brochure (5.6MB)
Florida Trade and Logistics Study - December 2010 (14MB)
Ranking US & Worldwide
The following reports were prepared by the Miami-Dade Aviation Department's Marketing Division. The reports were compiled from data collected by Airports Council International (ACI) Worldwide, and calendar-year traffic reports from the respective airports. Cargo and freight statistics for Anchorage International Airport (ANC) are excluded from the following tables as ANC reports combined in-transit (same aircraft) and enplaned-deplaned figures to ACI. ACI, based in Montreal, Canada, collects and reports data on passengers, cargo (freight and mail) and aircraft movements for over 500 airports throughout the world.
Cargo - Operations - Passengers
| 2006 | 2007 | 2008 | 2009 | 2010 | 2011 | 2012 | 2013 | 2014 |
For additional cargo related information e-mail us .