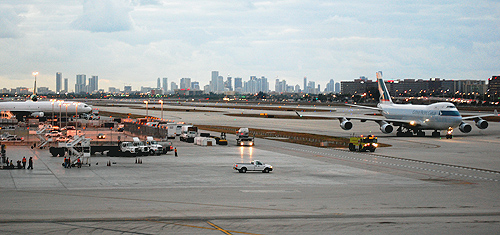 Photo by Miami-Dade Aviation Dpt.
Air Service
Miami International Airport has more scheduled non-stop cargo flights to Latin America and the Caribbean than Orlando, Houston, New Orleans, Atlanta, Tampa, and New York's Kennedy airports combined.
Economic Impact
The Airport's significant gains in the world's air cargo market have provided widespread economic benefits for Miami. MIA and the General Aviation Airport's annual economic impact on Miami-Dade County is approximately $26.7 billion. The Airport is also the base for an excellent trade support infrastructure for cargo airlines, with more than 1,000 freight forwarders and almost 250 customs brokers located around the airport. Their business is expedited by a unique "one-stop" Cargo Clearance Center, housing approximately 300 inspectors from U.S. Customs and Border Protection, U.S. Fish and Wildlife Service, and U.S. Food and Drug Administration, providing a 24-hour cargo clearance operation. Other on-airport businesses include aircraft leasing, crew training facilities, and aircraft maintenance.
Growth
Miami's trade is primarily with the Caribbean and Latin American countries. The majority of MIA's international import cargo comprises perishable products including flowers, seafood, fruits, vegetables, plus some assembled clothing. MIA's export cargo is comprised of computers and peripherals, machinery, medical equipment, telecommunications equipment, agricultural machinery, apparel articles and aircraft parts.
Cargo Expansion
MIA's completed $500 million Cargo Development Program includes 17 new cargo buildings, amounting to over 3.5 million gross square feet. The Airport's west and northwest cargo areas offer 60-plus cargo aircraft loading positions available to the airlines operating freighter aircraft, with apron space amounting to 3.8 million square feet, capable of handling 17 B747's or 38 DC-10F's. Most of MIA's facilities offer airside to landside access, facilitating the multimodal movement of cargo to and from the Airport.
For further information, e-mail us.