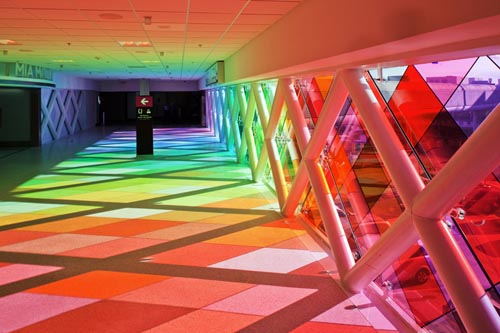 Christopher Janney (Enlarge)
Harmonic Convergence, 2011
MIA Mover Station - Skyride Connector
In the News:
November 21, 2011

MIA's Art in Public Places

In the News:
Miami Airport Installation: Harmonic Convergence by Christopher Jenney
(Designboom)
Christopher Janney Combines Whale Sounds and the Everglades to Make Art (Miami New Times)
Art Basel Miami 2011: The festival's most intriguing art (Washington Post)
Off the Basel Path 2011 (Biscayne Times)





Live graffiti painting. A colossal rose bed soaring 20 feet high. Early photos of Andy Warhol, a Picasso up for auction and a naked woman living in a pig pen. They're all part of the lineup for Art Basel Miami Beach, which runs Dec. 1-4, with a host of related events beginning Nov. 30.


Photo by Robin Hill - Enlarge

The art experience will begin for many at Miami International Airport with Harmonic Convergence, a 72-foot-long window wall with diamond-shaped panes of glass in 150 transparent colors. The installation by architect and composer Christopher Janney creates a gradually changing pattern of colors, similar to a rainbow. It was installed a few months ago in an airport entrance by a people-mover walkway. Travelers will hear sounds Janney recorded during trips to the Florida Everglades, scuba dives in the ocean, and other natural environments. At the top of each hour, a short composition with percussion instruments plays, marking the time of day. Continue
---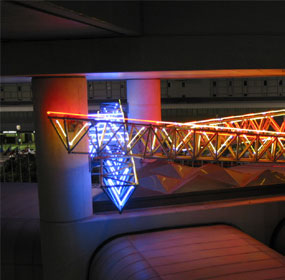 Miami Heliotrope, 1996
Keith Sonnier
Neon, metal, transformers, electrical conduits
Drawn to new technologies and unconventional materials, Sonnier continues his exploration of the relationship between art and technology in Miami Heliotrope. Suspended under the heliport at Miami International Airport, the massive neon-light installation involves a complex series of neon, metal structures, transformers, and electrical conduits transmitting, radiating, and reflecting light and color.
Stated Sonnier, "the dictionary defines 'heliotrope' as an arrangement of mirrors for reflecting sunlight from a distant point to an observations station. The play of color, light and reflections of the artwork on the metallic ceiling and the surrounding structure creates a vital and impressive atmosphere which evokes the spirit of Miami... the city of sun."
Born in Louisiana in 1941, Sonnier went to live and study art in France at the age of 24, later returning to the United States to earn a Master's degree. He soon began to sculpt, using elements of contemporary life such as neon, vacuum coils, vinyl and manufactured plastic. Sonnier has exhibited widely and is internationally known for his innovation with neon, fiber optics, and incandescent light.
Site Specific Projects