Central Terminal Gallery

Miami-Dade Aviation Department
Miami International Airport
Division of Fine Arts & Cultural Affair
Enclosed
Wendy Wischer
Central Terminal Gallery
Opens December 2015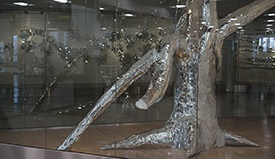 Enclosed is a site-specific installation of a large tree inspired by the old Buttonwood trees native to Southern Florida. The branches can span over 100 feet, often grazing the ground for support.

The tree, with a reflective mirrored mylar surface, is seen in fragments within the enclosed cases of the MIA Gallery, making reference to a preserved specimen while simultaneously acting as a cage as if to prevent further growth.

With our shifting landscape as a result of ever-increasing development, growing numbers of rare and endangered trees are found across the planet. Even those trees not endangered have a limited life span, as often they are not free to grow to their full potential. As a result, we will be left with traces, fragmented specimens and memories.

With Enclosed, it will be the reflecting light that escapes through these transparent cases of the gallery as it expands outward into the space connecting with the viewers both in reflections of light and within the tree itself as the mirrored surface of the piece reflects the surrounding colors of the architectural environment, including the viewers.

This piece alludes to containment and the blurred distinction of preservation and entrapment and how our collections of fragments distort the whole, leaving gaps in our memories. It is only the light that has no boundaries.


Gallery

just past the Concourse E security checkpoint