Central Terminal Gallery

Miami-Dade Aviation Department
Miami International Airport
Division of Fine Arts & Cultural Affair
DEMI: In the Eyes of a Child
Central Terminal Gallery
opens August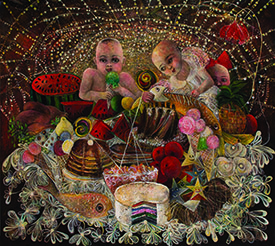 DEMI, Lemon Gelato, 2014, acrylic on canvas, 48" x 55"
Miami International Airport presents the work of DEMI, one of the most critically acclaimed Cuban-American artists working in the United States. Rooted in her past and personal experience, DEMI's work depicts a vibrant and intimate universe centered around children. Created between 2007 and 2015, the works on display are large, complex and meditative works that are bittersweet images from the inner depths of her painful youthful memories. The paintings, as well as her entire oeuvre are "about the balancing act between meaning and nothingness, good and evil, agony and joy." - Alejandro Anreus, Ph.D.
For more information on this exhibition, please contact the Miami-Dade Aviation Department's
Division of Fine Arts and Cultural Affairs at 305-876-0749.

Gallery

just past the Concourse E security checkpoint