Children's Gallery
Impressive Views: Eyeing Impressionist Landscapes
Children's Art Gallery, E-D Connector past security checkpoint
Opens May 2015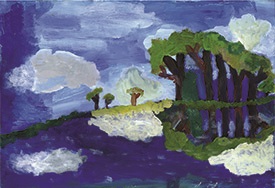 Artist: Julian Mesa
Title: Monet Inspired
School: David Fairchild Elementary
Art Teacher: Melissa Maxfield-Miranda

Impressionism originated in France in the 1860's and was characterized by the idea of creating images that captured a visual impression of a moment in time, as it pertained to the shifting and ever-changing effects of light and color. Impressionist painters, such as Claude Monet, Pierre-Auguste Renoir, Albert Sisley and Camille Pissarro, rejected established styles of painting, and were interested in a new way of seeing. These painters deviated from the clear depiction of nature and linear perspective, experimenting with loose paint handling, bold color and unconventional compositions. It was an art about atmosphere, immediacy and movement, a shift away from form to an interest in the properties of light. Impressionism was a precursor to later avant-garde art movements.
For more information on this exhibition, please contact the Miami-Dade Aviation Department's
Division of Fine Arts and Cultural Affairs at 305-876-0749.
It's Our World
Created by L.E.T.S. Draw students: Aaron Ashe, Dominique Byrd, Aesha Coleman, Charlotte Graham, Khyree Joseph, Kheyana Joseph and Nathaniel Perverdera.



South Terminal H, 2nd level