Project Benefits
The Central Boulevard Widening Realignment and Service Loop Project provides improvements to the entrance and exit for the Miami International Airport (MIA). The improvements will separate commercial and passenger traffic with the introduction of service roads to accommodate commercial vehicles. The Project also reduces congestion and improves the vehicular traffic of the airport.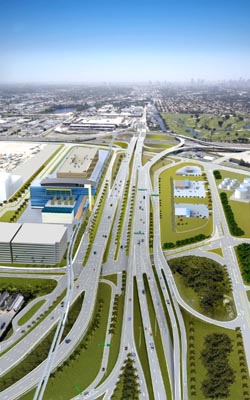 Scope of Work
New bridges
Roadway reconstruction including the perimeter road
Construction of north and south service access roads for commercial traffic
Reconfiguration of the existing Central Boulevard to go over the perimeter road
Improvements to drainage, pavement markings, lighting, signalization, utilities, Intelligent Transportation Systems (ITS), Mechanically Stabilized Earth (MSE) walls, and landscaping
Airport "way-finding" signage including Digital Message Sign (DMS)
NW 42nd Court extension over the Tamiami Canal, which will provide further connections to local traffic
Start Date: Summer of 2010
Scheduled Completion: Fall of 2013
Approximate Cost: $42 million
Project Partnering
Central Boulevard is a vital connection between the Miami International Airport, SR 836/ Dolphin Expressway and SR 112/ Airport Expressway. The Miami-Dade Expressway Authority (MDX) and the Florida Department of Transportation (FDOT) are providing the resources for this project.
For More Information:
---
February 17, 2011

A revamp of the main roadway connecting Miami International Airport with local streets and expressways is underway in line with other projects geared to improve transportation to and from the flying hub. The Central Boulevard Widening Realignment and Service Loop project aims to improve entering and leaving the airport, reduce congestion and separate commercial from passenger traffic by building service access roads.

The project coincides with other transportation improvements impacting the airport including the Florida Department of Transportation's Miami Intermodal Center program, which features the rental car center, MIA Mover and Miami Central Station. Central Boulevard, said José Abreu, Miami-Dade Aviation Department's director, "is really the nerve of the circulation here." Continue