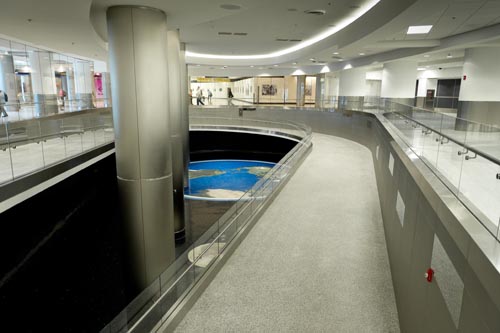 North Terminal international arrivals exit - Photo by William Elliott
Miami International Airport's North Terminal, completed in 2014, is used by American Airlines as its Latin American and Caribbean hub to operate more than 300 daily flights and serve more than 25 million passengers annually.

North Terminal's new three-level international arrivals facility, which saw its final phase completed in 2014, features: a 72-lane passport control hall capable of serving 2,000 passengers per hour; 30 automated passport control kiosks and 12 Global Entry kiosks for expedited clearance; a spacious second-level baggage claim area; a ground-level international greeter's lobby; and an eight-lane security checkpoint dedicated solely to connecting passengers.

Press Release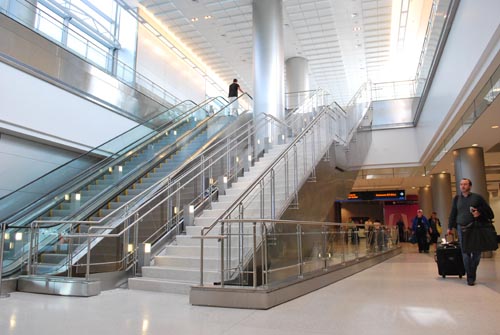 North Terminal Improvements Phase II project - Photo by Miami-Dade Aviation Department
The North Terminal Improvements (NTI) Phase II project, completed in December 2011, added 150,000 square feet of renovated space for additional ticket counters, a fourth North Terminal security checkpoint and new curbside check-in areas on the arrival and departure levels. The renovations, remodeling and additions also re-connected the Central and North terminals of MIA on all levels between Terminal D and E and include new escalators for easier vertical access.

North Terminal's Phase I improvements, completed in 2009, delivered 58 ticket agent positions, 66 self-service check-in devices, 14 curbside check-in positions, and three security checkpoints located just 90 feet from the concourse area for fast, easy access to passenger gates.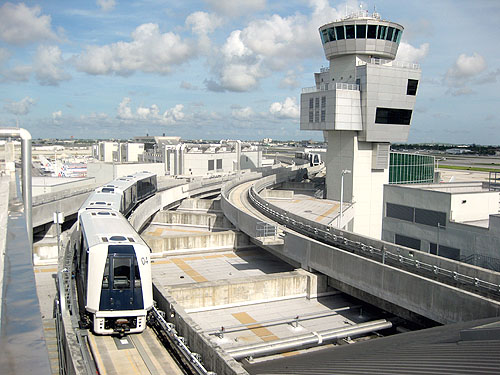 The Concourse D skytrain is able to transport 9,000 passengers per hour

In September 2010, the Concourse D skytrain people mover began whisking passengers between four conveniently located stations on the roof of the mile-long concourse. A ride on the skytrain can take you from: station #1 near Gate D-17 at the easternmost end of Concourse D to station #2 for domestic baggage claim; continue to station #3 for connecting flights at gates D-26 to D-39, passport control or exit to Central or South Terminal; or carry you all the way to station #4 for gates D-40 to D-60 and American Eagle flights at the new Regional Commuter Facility - all within five minutes. Built by Parsons-Odebrecht with five four-car trains provided by Sumitomo Corporation of America and Mitsubishi Heavy Industries, skytrain has the capacity to transport 9,000 passengers per hour. It is also designed to decrease walking time 70 percent for domestic connecting passengers and 34 percent for international connecting travelers in Concourse D.
The former Concourse A and its 16 gates re-opened in July 2010 with a new look and a new name after being closed in 2007 to expedite North Terminal construction. The 430,000-square-foot area was renovated to provide a seamless connection to the rest of Concourse D and its 16 gates were renumbered D-1 to D-19.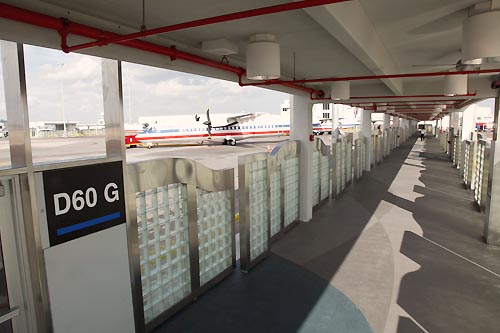 New RCF outdoor walkway - Photo by POJV
Tying the entire North Terminal together is a new automated baggage handling and delivery system capable of screening and transporting 8,400 bags per hour from the check-in area to all of North Terminal's 50 gates via a state-of-the-art system of 25 explosive detection machines and nearly 10 miles of conveyors.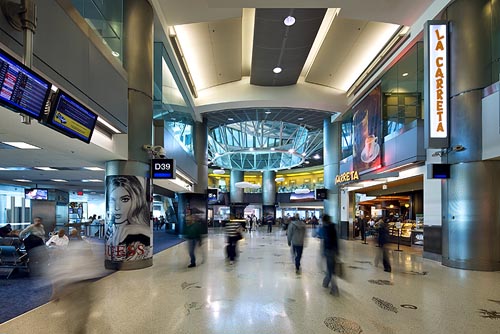 Photo by Heery S&G
North Terminal also gives passengers a taste of South Florida chic before they leave the airport with a wide assortment of more than 80 restaurants and shops. More than 20 new concessions opened in 2011 alone, including: The Shoppes at Ocean Drive, a 9,000-square-foot retail space by Newslink Group featuring brand names like Prive Gourmet Market, Britto, It's Sugar, Peace-Love-Miami, Ocean Drive News, Puma, Nike, Adidas and Ducati; shops operated by Duty Free Americas for Coach, Emporio Armani, Mont Blanc and Thomas Pink; a new food court featuring Café Versailles, Manchu Wok, Nathan's Hot Dogs and Villa Pizza; as well as Shula's Bar and Grill, Cocina Lorena Garcia, Island Chicken Grill, Juan Valdez Café, TGI Friday's, InMotion, Booklink Café, Kuva, Newslink Explorer and Air Essentials.

North Terminal won the Airport Revenue News (ARN) magazine 2012 award for Best Overall Concessions Program Award in a single terminal, was named one of the top 10 U.S. airports for healthy food in a 2011 report by the Physicians Committee for Responsible Medicine, and was named "2010 Best Food Court" in the Miami New Times annual "Best of Miami" issue.
News Clips:
July 16, 2012

View video (Local 10)

Facility to allow faster processing

After a bit of a delay, the new customs and immigration wing at Miami International Airport is ready for its grand opening. Coming into the U.S. through MIA can be a real challenge. "Our old Concourse E facility had reached capacity, so at certain times, we reached a point where we couldn't process them all," said MIA Communications Director Greg Chin. "We had to send some passengers to temporary facilities."

Convenience is key for international travelers. That is why the Sky Train drops them off just one floor above. As soon as they walk into the immigration hall, they realize how massive it is -- a full football field long. The new facility opens July 31 at a cost of $180 million. Its 72 passenger lanes are double the number at the old facility.

It also will include six global entry kiosks, which travelers can use for a small fee. All users have to do is have their passport scanned, their fingerprints taken and their retinas read, and if they are approved, they are on their way. Customs officers have just as much room behind a one-way mirrored wall, and a new baggage area is connected to American Airlines' fully automated baggage handling system. For security, there will be 25 inline explosive detection units at $1 million apiece, X-raying every piece of checked luggage.

"We have five carousels that will open this month, and then at the end of March next year, we will have all 10 carousels working with the new baggage handling system," Chin said. In order to staff the new facility with immigration and customs officers, the airport will temporarily close Concourse E until further notice. Continue
July 16, 2012

View video (Local 10)

Related: MIA opens new immigration, customs wing (Local 10)

MIA moves 30,000-40,000 bags per day

A new multimillion-dollar baggage system is now open at Miami International Airport, and demolition has begun on the old shed. The biggest phase of MIA's $2.9 billion North Terminal has been handled. "You're talking a fully automated system from the ticket counter to the aircraft. It gets screened for explosives and delivered to your gate," said MIA Communications Director Greg Chin.

A labyrinth of conveyor belts stretches a total of 14 miles through the airport. The system can handle 6,000 bags per hour, and currently moves 30,000 to 40,000 bags per day. The fully automated baggage handling system cost $220 million, but it has already processed more than 3 million bags and been handed over to American Airlines.

Also, the demolition of MIA's old baggage shed makes room for three more gates. The old facility has been in operation for 20 years and was not only outdated, but it was in the way. "This is about 100,000 square feet of space and a lot of metal," Chin said.

Now, American's new linear gates are more productive than the old bicycle hub and spoke design. "Flights are able to come in and out now like a two-way street with this baggage shed gone," Chin said. Officials said the new setup will allow American to operate 500 flights per day, rather than 300. Continue
July 11, 2012

Miami International Airport has completed what Miami-Dade County's aviation director calls "probably the most significant milestone" in the $2.9 billion North Terminal: The $220 million automated baggage handling system has successfully concluded 105 days of operations. MIA's system is designed to screen and transport 6,400 bags per hour from the 1.3-mile-long North Terminal's 152 ticket counters to 50 aircraft gates. The North Terminal is also known as Concourse D.

The system has already handled more than 3 million bags (about 32,000 per day) and met its performance specifications, a news release from the county said. The system has 22 explosive detection machines, 12 miles of conveyor belts and scanners to identify tags on each bag to send it to the right gate. Miami-Dade Aviation Department Director José Abreu said, "The baggage system is the brain of this 3.5-million-square-foot facility, connecting all 50 gates, and without it North Terminal would not function effectively. Continue
April 19, 2012

New Miami International Arrival Hub Can Clear 3,600 Passengers an Hour


North Terminal Development Program The New MIA (Capital Improvement Program)



Flying into Miami should get easier for international travelers when Miami International Airport opens a new Federal Inspection Services facility this summer. The three-level, 400,000-square-foot area is scheduled to partially open in July, with all 72 passport control lanes operating to process international arrivals. "Once fully complete, the new FIS area will be able to process 3,600 international passengers per hour upon their arrival to the US," said Miami International spokesman Greg Chin.

The new area features 10 baggage claim carrousels, five of which will open in July on the second level. The ground level features a new greeter's lobby. The new Federal Inspection Services area is twice the size of the airport's current federal inspection area in Concourse E, which currently serves American Airlines' international flights. The new federal inspection area is one of the last parts of the airport's multibillion-dollar North Terminal construction project to be completed. The only things remaining to be done on the terminal project is the completion of the federal inspection area and three gates nearest to the old baggage handling system, Mr. Chin said. Continue
April 15, 2012

Shop MIA

"They love to spend, and they love that our prices are much lower than Brazil,'' Serrano said on a recent evening at the luxury airport concession, which opened last year, flanked by Coach and Thomas Pink shops on one side and Mont Blanc on the other. A few minutes later, Serrano was tapping an iPhone app in a bid to translate a message into Mandarin for a perplexed Chinese customer: His Miami-Los Angeles flight was a domestic one, making him ineligible to buy in the duty-free store. He nodded in understanding and moved on. "He wanted to buy, but today he can't,'' she explained.

Concessions at the North Terminal are booming, buoyed in part by strong growth in international travelers drawn to its expanded selection of trendy, new shops. The wider selection of high-end stores puts Miami among the front-runners in a global trend of vastly expanding retail and food offerings at airports.

If Miami is the favorite shopping haven for Latin Americans, the North Terminal is emerging as a glittering last-chance mall on their way out of town. "The concessions have really been exceeding everyone's expectations in terms of sales,'' said Miguel Southwell, deputy director for business with the Miami-Dade Aviation Department, which runs the county-owned airport. Continue
March 5, 2012

Shop MIA

Airport Revenue News (ARN) magazine named MIAMI International Airport's North Terminal the winner of its 2012 Best Overall Concessions Program Award during the publication's annual conference and exhibition in February (see press release below). Industry participants cast more than 1,300 on-line votes in five airport categories and 15 specialty retail, news and gifts and food and beverage categories to determine the winners.


Miami-Dade Aviation Department (MDAD) Deputy Directors Ken Pyatt and Miguel Southwell, Concession Business Chief Adrian Songer and Aviation Director José Abreu with ARN's 2012 Best Overall Concessions Program Award.

In 2011, MIA opened more than 20 new concessions and now provides 80 retail and dining locations in North Terminal alone. ARN is a monthly trade magazine that specializes in coverage of all revenue-generating issues affecting the airport industry. For more information about MIA's award-winning shops and restaurants, go to www.ShopMiamiAirport.com. Continue
| | |
| --- | --- |
| Winter 2011 | Project Leadership Gold Award Winner: Miami International Airport's North Terminal |
| | Miami International Airport's North Terminal Development Program is quickly nearing completion in 2012. Only the new international arrivals area and three gates remain to be opened in the 50-gate super concourse, which is used by American Airlines as its hub for Latin America and the Caribbean to serve more than 25 million passengers annually and provide more than 300 daily flights. Continue |
October 4, 2011

The Construction Owners Association of America (COAA) has selected Miami International Airport's North Terminal Development Program as its 2011 Project Leadership Award Program Gold Award Winner, COAA's highest honor.


Photos of MIA's North Terminal, by Armando Raúl Rodriguez and Heery S&G

According to the COAA, the Project Leadership Award is an annual awards program that recognizes owner's excellence in project delivery. The Project Leadership Award program promotes leadership, professionalism and management excellence of owners involved in the design and construction process. The awards are open to both public and private owners who do not have to be members of COAA, and are open to renovation and new construction projects from any industry and of any size.

In September, North Terminal was also named among 35 winners in Engineering News-Record

Southeast's 2011 Best Projects competition. North Terminal's Concourse D skytrain and Regional Commuter Facility were joint Merit Award winners in the Transportation category. Engineering News-Record, published by McGraw-Hill, is one of the leading publications in the construction industry. Continue
September 12, 2011




By the end of 2012, Miami International Airport (MIA) will have been transformed by completion of the North Terminal Development Program. MIA, which is operated by the Miami-Dade Aviation Department, is the largest US gateway to Latin America and the Caribbean and is one of the leading international passenger and freight airports in the world. 96 different carriers are involved in shifting over two billion tons of freight annually and ensuring the safe travel of almost forty million passengers.

MIA also has a reputation for aesthetics to live up to. Cited within the industry as one of the six most beautiful airports in America and among the top 15 in the world, it is imperative that any new development enhances the environment of calm and tranquility that its operators have sought to cultivate.

"This has been a huge redevelopment project which is costing in the region of $3 billion," states Juan Carlos Arteaga, who has held overall responsibility for the program since March 2006. The most significant challenge of his career to date has involved expanding and renovating five distinct concourses which have been remodeled into a state-of-the-art, 1.3-mile-long linear terminal. Continue
September 22, 2011

Two new areas in MIA's North Terminal have been named among 35 winners in Engineering News-Record Southeast's 2011 Best Projects competition. North Terminal's Concourse D skytrain and Regional Commuter Facility were joint Merit Award winners in the Transportation category.

The Concourse D skytrain, which opened last September, connects passengers from one end of Concourse D to the other within a few minutes and has reduced the average walking time in North Terminal by 50 percent. The Regional Commuter Facility is a 50,000-square-foot extension of North Terminal that opened last August to serve American Eagle's regional jet operations and includes two new concourse-level gates, a new passenger waiting area and outdoor walkways to 12 lower-level gates.

Engineering News-Record, published by McGraw-Hill, is one of the leading publications in the construction industry. Continue
| | |
| --- | --- |
| May 2011 | |
| | Over the last several years the Miami International Airport has had nearly one million square feet of epoxy terrazzo installed. The expansive concourse areas are decorated with over five thousand cast bronze elements. The artist's desire to create a "journey within the journey" is well communicated in the rendering of a "vortex in space" where multi-color epoxy terrazzo is used to bring the galaxies into a perspective that can be viewed by pedestrians. The black and white epoxy color mixes were poured together simultaneously and a variety of seven different seashells were placed by hand in certain areas. Where the two colors converge, a special technique was implemented in order to create the visual effect of the colors meeting naturally. There are few projects that showcase terrazzo's far-reaching potential quite like the North Terminal at Miami International Airport and when viewed in light of it artistic value, it is one of the nation's most impressive public art installations. Continue |
April 9, 2011




San Francisco International's new Terminal 2

Miami International

American Airlines' Terminal 8 at JFK Airport

JetBlue's T5 Terminal at JFK Airport

Delta Terminal at Detroit Metro Airport

United/ Continental's Terminal E, Houston's Bush Intercontinental Airport

NEW YORK (TheStreet) -- Airline travel can involve unpleasant moments, from going through security to waiting out bad weather to watching thoughtless passengers with too much baggage. One way airlines and airports can enhance the experience is by making terminals pleasant places to be. These are multibillion dollar projects that take many years, so they involve major bets on the economy. For airlines, it can be difficult to quantify the financial benefit, but it is easy to make the case that gorgeous terminals like American's Terminal Eight at New York's Kennedy Airport provide a competitive advantage, given that international travelers in the New York area have a broad array of choices.

Miami International: It cost too much and it took too long, but the renovation of Miami International Airport is finally nearing completion. The project began in 1995, billed as a $975 million new terminal for hub carrier American. The scope and the cost both swelled. American's terminal ended up costing $3 billion, while other improvements, including a new terminal for United and its partners, brought the total cost to $6.4 billion.

In 2010, passenger traffic at MIA grew 5.0%, to reach 35.7 million, as carriers added eight new international destinations including Berlin, Brasilia (on two carriers) and Moscow. International traffic accounted for 17 million passengers, making MIA the country's second biggest international airport after New York Kennedy. This year, the Skyteam alliance is growing, with Delta adding daily service to London Heathrow while KLM begins four weekly flights to Amsterdam. Other carriers plan Amsterdam and Lisbon service. Continue
March 15, 2011

American Airlines Announces Record-Breaking Numbers at Miami Hub

American Boards More Than 39,000 Passengers in a Single Day

American Airlines today announced it has hit a record-breaking milestone for its operations at Miami International Airport (MIA). On Saturday, March 12, the airline boarded 39,283 passengers at MIA, a record day for the hub. Sunday, March 13, marked the second-highest figures for boarded passengers, with 38,914 customers traveling on American.

"This is a tremendous accomplishment," said Marilyn DeVoe, Vice President of American's Miami hub. "Our flight schedule has been steadily increasing over the past years, and we know that these numbers will only continue to grow as MIA strengthens its reputation as a world-class travel center, thanks in part to the North Terminal."

American's Miami hub now operates from the nearly completed North Terminal – a state-of-the-art facility with 48 international and domestic jet gates, a new people-mover system and expanded check-in and baggage facilities. Continue
February, 2011

One of the last pieces in the Capital Improvement Program (CIP) mega-puzzle at Florida's Miami International Airport – the transformation of its Concourses A through D into what is now called the North Terminal, is nearly complete: 44 of the North Terminal's 50 gates were open by late 2010 and the last six will open this year. In August, 2010, American Eagle's Regional Commuter Facility, complete with 12 hard stands and two full contact gates, officially opened. On September 15 passengers started using the Skytrain, built on the North Terminal's roof.

The US$2.94 billion North Terminal Development Program (NTDP), part of the biggest CIP for the airport since the 1950s, has involved replacing the 'finger' type concourse configuration with a more efficient, mile-long (1.6km) linear terminal. The work includes nine additional gates, 20 refurbished jet bridges and 28 new jet bridges from Thyssen- Krupp Airport Systems, 1,800,000ft² (167,185m²) of renovated space and 1,900,000ft² (176,472m²) of new construction, including a 400,000ft² (37,152m²) federal inspection facility. Current passenger throughput is about 36 million a year and the airport can now handle up to 56 million passengers a year. Continue
| | |
| --- | --- |
| January 1, 2011 | Best of 2010 - Best Transportation, Vertical - MIA's North Terminal Development Consolidation Project Phase 1 |
| | The $855-million North Terminal Phase 1 represents one portion of the $2.95-billion Miami North Terminal Expansion program, created to handle the ever-increasing passenger traffic demands at Miami International Airport. Phase one consisted of 1.3 million sq ft of new construction and 1.1 million sq ft of renovation and involved the opening of 30 gates, more than 115 ticket counters, three Skytrain stations and approximately 5,000 ft of train guideway. Continue |
January 12, 2011

Miami International Airport was recently voted one of the top 15 most noteworthy airports in the 2011 Passenger Terminal World Annual Review. The airport copped the distinction for the range of retail offerings available in its North Terminal. The judges felt the terminal's nearly 20 stores stocked a range of brand merchandise that evoked "South Florida chic, " and offered items travelers could find in downtown Miami.

Airport officials said they wanted to ensure travelers connecting through the hub with a lot of downtime had access to a variety of shopping outlets without having to leave the facility. "The new stores have brought an exciting atmosphere and image to the terminal, and we want to reflect that new spirit," Greg Chin, communications director of the Miami-Dade Aviation Department said, responding to the award. Continue
June 18, 2010

Best Miami Food Court 2010: Miami International Airport's North Terminal

Granted, the quality of eats found in food courts is generally not of epicurean note, but the selections at Miami International Airport's North Terminal (post-security, especially) give travelers a good taste of some pretty recognizable local offerings, so it deserves cred.

Tourists who get to the airport late or go straight to South Beach would miss out on Little Havana's top menu items (AKA some of the finest Cuban eats in the city), if not for Café Versailles and La Carreta representing at MIA. How tragic for those sunburned visitors to not try one little smoky ham croqueta or medianoche before they go back home! Continue
Capital Improvement
MIA Terminals
About Us