Fake Holidays
Reiner Riedler

, level 3 (just past security checkpoint)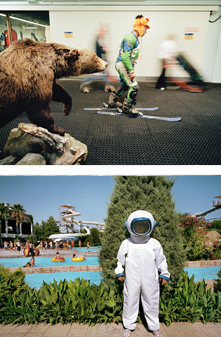 Based on a series the artist began in 2004, the exhibition examines contemporary society's preoccupation with leisure travel and exotic locations – the more foreign and fantastical, the better.
Jens Lindworsky wrote in the introduction to Riedler's book of the same name, "Florida's Disneyworld hosts more visitors than Morocco, Tunisia, Egypt and Israel combined. New and more refined illusionary worlds are added every year, and the simulation business is booming… When wishes are out of reach, simulation is taking over our leisure time and our holidays. Imaginary worlds are created, often under massive technological exertion, in order to offer us experience as reproducible merchandise. Although the quality of these adventures on demand sometimes proves to be rather dubious, the boom does shed light on one thing: the yearnings and dreams underlying people's daily lives."
Today, a honeymoon in Paris is possible while staying in China and a romantic gondola ride in Venice is a daily occurrence in Las Vegas. Riedler's photos dramatize these fabricated spaces and depict how those who are not able to physically relocate themselves indulge in elaborate travels and improvise ways to bring exotic experiences closer to home.
Reiner Riedler lives and works in Vienna, Austria. A documentary photographer whose work examines human beings and their environment, Riedler has exhibited internationally at leading institutions such as the Centre Georges Pompidou, Paris; the Leopold Museum and Künstlerhaus, Vienna; Sirius Art Center, Cork, Ireland and the International Festival of Photography Lodz, Poland among many others. His pictures have been published in such magazines and newspapers as National Geographic, Fortune, Newsweek, Le Monde, The New York Times and Der Spiegel.
For more information, please contact the Division of Fine Arts and Cultural Affairs at Miami International Airport 305-876-0749.
Site Specific Projects