Miami-Dade Aviation Department
Miami International Airport
Division of Fine Arts & Cultural Affairs
Presents
Cheryl Maeder
Dreamscapes Series
Camera Works Gallery, Gate D22
Opens September 2016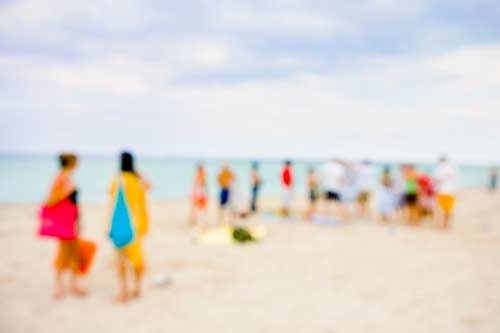 Cheryl Maeder, Beach Series X (ed. 6/10), color photograph, 2006
Cheryl Maeder's Dreamscapes Series is a collage of saturated memories from her early childhood infused with Maeder's expanding adventures from her travels and everyday life. Maeder's defining moment came while traveling through the Costa Brava coastal towns of Spain where she began experimenting using her camera as a painter uses a paintbrush. Seeing the world through painterly eyes, she began to deeply explore the relationship between the familiar and the abstract. Her goal is for the viewer to see the world within a larger reality suggesting that what appears to be clear and in focus, is only our perception. This gives tension and mystery to her images.
Cheryl Maeder is a fine art photographer & filmmaker born in Elmwood Park, New Jersey. Her work is in permanent museum collections, and her photographs and video installations have been exhibited internationally at major art fairs and in public art installations. Maeder lives and works in South Florida.
MIA Portrait Project
WAYPOINT Gallery
Concourse J, Gate 7
Opens December 2015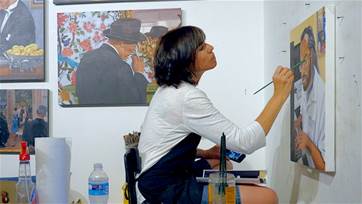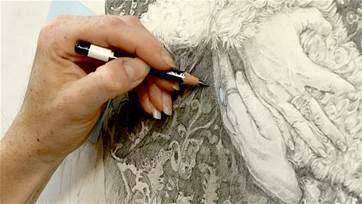 From left to right: Artists Kristen Thiele and Christina Pettersson working in their respective studios.


The MIA Portrait Project film series is the first original programming of the art-centric video site WAYPOINT, which debuted at CONTEXT Art Miami 2015. The portrait-making encounters between four diverse artists - Jessie Laino, Christina Pettersson, Kerry Phillips and Kristen Thiele and their subjects, Miami International Airport employees – are the focus of the new series of films.

WAYPOINT is a public electronic art exhibition project inaugurated at one of the world's largest transportation hubs, Miami International Airport (with annual traffic of more than 40 million passengers). Its mission is to present and engage travelers with a rich and vibrant stream of programming that includes short documentary films about artists creating work and visually inspiring video artwork by established and emerging artists.
WAYPOINT was developed by the Division of Fine Arts & Cultural Affairs, Miami International Airport, in association with contemporary art filmmakers Wet Heat Project.




For more information on this exhibition, please contact the Miami-Dade Aviation Department's
Division of Fine Arts and Cultural Affairs at 305-876-0749.
mia Galleries
Carybe at MIA (South Terminal)
A new home for historic and vibrant murals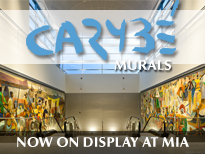 Yolanda Sanchez, Director of Fine Arts and Cultural Affairs at MIA, tells County Connection host Kevin Wynn how a pair of vibrant artworks -- two murals by Brazilian artist Carybé -- came to MIA and found a new home! View video: Carybé at MIA - Time: 5:22
Community Projects