MIA: Gateway to Brazil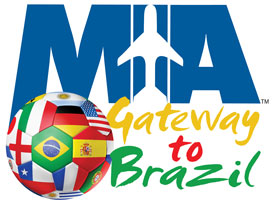 On June 12, one of the greatest sporting events on earth – the 2014 FIFA World Cup Brazil™ – officially kicked off in São Paulo. The month-long celebration of the World's Game is held every four years, and Miami International Airport is ready to get you to all of the action. With more service to Brazil destinations than any other U.S. airport, MIA will get you there – whether you're marching with Sam's Army® or cheering on La Furia Roja, the Three Lions, La Albiceleste, or the hometown Seleção. MIA and our airline partners serving Brazil – American Airlines, GOL and TAM – will proudly offer you and nearly 200,000 other passengers service to 10 of the 12 World Cup host cities, so that you can get straight to the match without the hassle of making tricky domestic connections after landing in Brazil.
Soccer in the Terminal #MIA2Brazil
MIA isn't just getting fans to the global soccer tournament in Brazil this summer – we're also bringing the game to passengers at MIA. As players took the field for the first match in Brazil, MIA held its own kickoff event to usher in a 31-day series of activities at the airport. From a surprise performance by Brazilian dancers and percussionists to an interactive mini-soccer field featuring a former professional soccer player, the kickoff offered event attendees and passing travelers a taste of the big event in Brazil. In addition to these soccer-themed attractions, be on the lookout for other amenities during the World Cup at MIA:
Soccer-inspired artwork by local students from Miami's acclaimed Design and Architecture Senior High;
Nintendo Wii™ Soccer game stations;
World Cup and national team clothing and accessories at MIA shops to help you show your team colors;
A children's cart with soccer-themed face-painting;
A new viewing area featuring a 90-inch flat screen TV in the upgraded MIA Hotel lobby pre-security at Central Terminal E, 2nd Level;
Special offers at MIA shops and restaurants.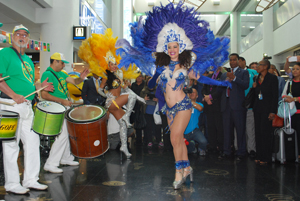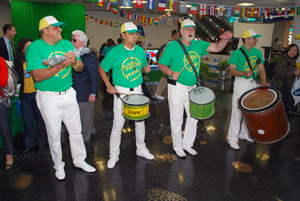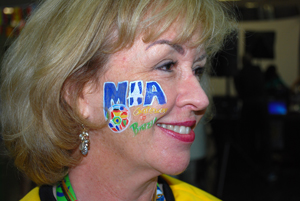 You may even run into some of your favorite soccer players from national teams traveling through MIA to the games in Brazil. The airport has already welcomed tournament-bound teams from the U.S., Nigeria, Honduras and South Korea.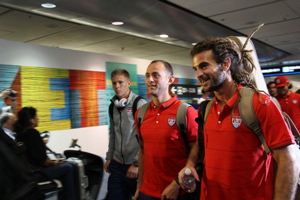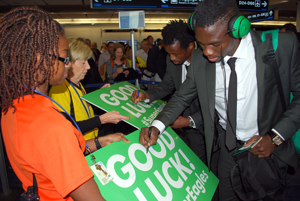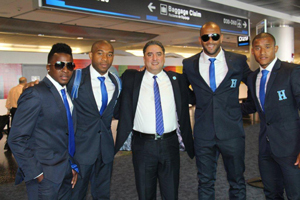 Check out MIA's World Cup celebration with its electrifying sights and sounds in local news reports:
WSVN 7 News: http://www.wsvn.com/story/25762502/mia-kicks-off-world-cup-celebrations?autoStart=true&topVideoCatNo=default&clipId=10260642
WPLG Local 10: http://www.local10.com/sports/mia-celebrates-world-cup-travel-season-with-series-of-events/26458300
For updates on all things soccer at MIA this summer, follow us on https://www.facebook.com/iflymia/ and https://twitter.com/iflymia, #MIA2Brazil.
Gateway Getaways
Brazil may be your final destination this summer, but it doesn't have to be your only destination. A Gateway Getaway in Miami is the ideal pre-tournament warm-up routine – or post-game cool-down session – for traveling soccer fans. There's no shortage of things to do, see and experience in Miami, from arts and culture, to fine dining and nightlife, to relaxing on our famous beaches. MIA hub carrier American Airlines is offering Brazil-bound passengers 48-hour layovers in beautiful Miami at no additional cost in June and July. Find out more at http://www.aa.com/brazil. Brazilian carriers GOL and TAM are happy to get you to the games from our Miami gateway, too – check them out at http://www.voegol.com.br/en-us and http://www.tam.com.br. The Greater Miami Convention and Visitors Bureau is also feeling soccer fever and has declared Summer 2014 as "Miami Soccer Summer." You can learn all about our community's love for fútbol, as well as our flourishing soccer culture, at Miami-soccer-summer. Wherever your team takes you in Brazil, remember that the journey can start and finish with a Gateway Getaway in Miami.
For additional information, call MDAD's Office of Communications at 305-876-7017 or send us a message.