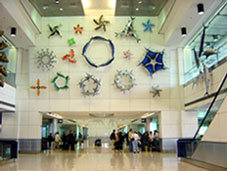 Miami-Dade Art in Public Places is an internationally-recognized public art program dedicated to bringing the vision and talent of a diverse group of artists out of galleries and museums and to the Miami community. One of the first public art programs in the country, Art in Public Places (APP) was established in 1973 with the passage of an ordinance allocating 1.5% of county construction funds for artworks which are site-specific, permanent and integrated with architecture.
Almost five hundred art installations enrich and enliven public areas such as airports, transit lines, libraries, fire stations, and government buildings. Educational programming includes tours, lectures, artists-in-residencies, and collaborative projects with Miami-Dade County Public Schools.
Due to MIA's large construction program, it is currently the largest user of APP in the County. The Fine Arts & Cultural Affairs Division at MIA participates in the identification of art opportunities at the airport, collaborates with architectural and design teams on expansion and renovation projects, and participates in the selection of artists and works of art, and the implementation and installation of works.
For more information, please visit the Miami-Dade Art in Public Places.
In the News:
January 2012

Michele's unique works of art aptly capture the spirit and form of the flora and fauna of our natural world and of South Florida in particular. What a wonderful opportunity to witness the works on paper that were used to create the amazing terrazzo floors at the Airport. On your next travels abroad make sure you stop by Terminal D, Level 2 and check out her three installations; A Walk on the Beach, 1995 – 1998, The Galaxy, 2008 and From Seashore to Tropical Garden.


A Walk on the Beach, 1995 – 1998 - MIA's Art in Public Places

Make sure you visit local artist Carlos Betancourt's installation About the Temporal and Universal Substance II, Maria Martinez-Cañas Años Continuos, 1996 and Donal Lipski's Got Any Jacks? Yolanda Sanchez, Director of the Airports' Mia Galleries does an outstanding job of welcoming our visiting tourists with museum quality art installations. Continue
November 21, 2011

MIA's Art in Public Places

In the News:
Miami Airport Installation: Harmonic Convergence by Christopher Jenney
(Designboom)
Christopher Janney Combines Whale Sounds and the Everglades to Make Art (Miami New Times)
Art Basel Miami 2011: The festival's most intriguing art (Washington Post)
Off the Basel Path 2011 (Biscayne Times)





Live graffiti painting. A colossal rose bed soaring 20 feet high. Early photos of Andy Warhol, a Picasso up for auction and a naked woman living in a pig pen. They're all part of the lineup for Art Basel Miami Beach, which runs Dec. 1-4, with a host of related events beginning Nov. 30.


Photo by Robin Hill - Enlarge

The art experience will begin for many at Miami International Airport with Harmonic Convergence, a 72-foot-long window wall with diamond-shaped panes of glass in 150 transparent colors. The installation by architect and composer Christopher Janney creates a gradually changing pattern of colors, similar to a rainbow. It was installed a few months ago in an airport entrance by a people-mover walkway. Travelers will hear sounds Janney recorded during trips to the Florida Everglades, scuba dives in the ocean, and other natural environments. At the top of each hour, a short composition with percussion instruments plays, marking the time of day. Continue