(Miami-Dade County, FL) -- On January 26, sixteen members of the local Hispanic community gathered at Miami International Airport's North Terminal to view for the first time the 100 Latinos Miami photo exhibit, which includes portraits of themselves and other Hispanics who have migrated to Miami-Dade County and made significant contributions to the South Florida area. What began as a dream by Latin American journalist Verónica Durán to document her own immigration experience and those of other Hispanics has expanded from a book to the photo exhibit at MIA that will be seen by thousands of passengers every day until July.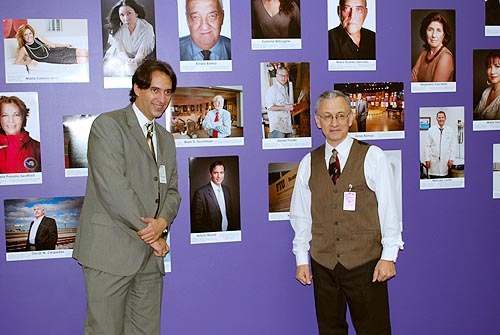 100 Latinos Miami members Arturo Morell, attorney and cultural promoter, and Daniel Pontet, artist and cartoonist, next to their portraits.
Joining the group were 100 Latinos Miami selection committee members Maurice Ferré, former City of Miami Mayor, and Guillermo Lousteau Heguy, President of the InterAmerican Institute for Democracy, as well as Verónica Durán, founder of the 100 Latinos project, Miami-Dade Aviation Department Director José Abreu and MDAD Fine Arts and Cultural Affairs Division Director Yolanda Sánchez, Ph.D.
100 Latinos Miami features 100 portraits of Hispanics from all walks of life who were selected because they, "by virtue of their talent and success, contribute to the economic, social and cultural development of the region," according to Duran. "100 Latinos/Hispanos is an homage to all those who strive to make their dreams come true."
100 Latinos Miami is presented by the Miami-Dade Aviation Department's Division of Fine Arts and Cultural Affairs and is located in the North Terminal near Gate D-26. For more information, go to . For more information about 100 Latinos Miami, go to www.100latinos.com .