(Miami-Dade County, FL) -- Lauren Stover, Miami-Dade Aviation Department Assistant Director for Public Safety, Security and Communications, was chosen from 2,000 nominees to be one of Business Leader Media's 50 South Florida Women Extraordinaire honorees of 2011.
Business Leader Media, publisher of Business Leader magazine, honored the winners at its eighth annual awards ceremony on March 8 at China Grill in Miami Beach and will feature the winners in the February/March 2011 issue of the magazine.
According to Business Leader Media (www.businessleadermedia.com ), the Women Extraordinaire awards honor accomplished women business leaders in the South Florida community. An honoree must be a woman of outstanding accomplishment who is a leader, innovator, problem-solver, and an inspiration and mentor to others. She serves the community by making a difference and is held in high regard by all those who know her.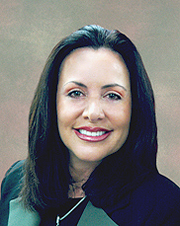 At Miami International Airport (MIA), Stover is responsible for the day-to-day oversight of the airport's safety and security operations, including the police and fire-rescue divisions. Stover is the first woman in the history of MIA to direct the security operations for the aviation system.
In partnership with the Miami-Dade Police Department, she launched "Behavior Pattern Recognition" training at MIA in 2007, making it the first U.S. airport to train its civilian employees to detect suspicious behavior. To date, more than 43,000 airport workers have received the training, which has resulted in more than 10,000 tips to police and more than 500 arrests.
As a 27-year veteran of Miami-Dade County government, Stover was recruited in February 2003 by the newly created Transportation Security Administration (TSA) from a senior management position she held at MIA for nearly a decade. Stover built the agency's first comprehensive public affairs operation for the Southeastern U.S. On March 1, 2003, the Department of Homeland Security (DHS) officially commenced operations, naming Stover as its first Public Affairs Director for the Southeastern U.S. Stover was later appointed by the TSA to become the Eastern Field Director for the Office of Strategic Communications, overseeing security-related public outreach programs for more than 200 airports in 20 states. She later returned to the Aviation Department in 2006 as Assistant Director of Public Safety, Security and Communications.
"The Aviation Department is extremely proud of Lauren for receiving this prestigious honor and we are grateful to have someone as accomplished as she is on our management team," said Miami-Dade Aviation Director José Abreu. "She has taken MIA to new heights as a national leader in airport security."