(Miami-Dade County, FL) -- International passengers arriving at Miami International Airport's North Terminal will virtually step off the plane and into America's Everglades with Experience the Everglades, a collection of 26 vivid, large-scale photographs featuring the reserve's wildlife and landscapes that now line the walls of the terminal's international arrivals corridor. The exhibition, which is on display through December, is a partnership between the Miami-Dade Aviation Department's Division of Fine Arts and Cultural Affairs, Everglades National Park (U.S. National Park Service) and the Everglades Foundation.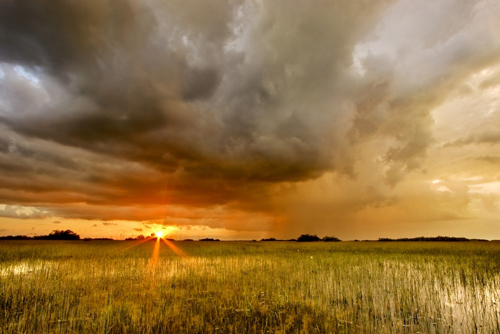 Photographers Alejandro Borgese, Rodney Cammauf, Paul Marcellini, Judd Paterson, Katy Dimos and Eric Ralts participated in the Everglades National Park's Artist-in-Residence program, which allowed them to live and work for one month in the subtropical environment known for its extraordinary wildlife, large wading birds, and for being the only place on earth where both alligators and crocodiles coexist.
"The exhibition is designed to increase awareness of the Everglades globally by giving our international passengers a sampling of it in all its wonder and encourage them to visit in person," said Yolanda Sánchez, Ph.D., Miami-Dade Aviation Department Fine Arts and Cultural Affairs Division Director. "As Marjory Stoneman Douglas once said, 'there are no other Everglades in the world.'"
"The great news about Everglades National Park and the ecosystem that supports 67 threatened or endangered species is that passionate, dedicated people are working hard to protect and restore its wonders for all to see," said Kirk Fordham, CEO, Everglades Foundation. "The stunning photography in this exhibit makes us all appreciate its grandeur and relevance."
About Everglades National Park and the Everglades Foundation
Everglades National Park, established in 1947 to preserve the biological features of the subtropical Everglades of Florida, is the third largest national park in the lower 48 states. It is also recognized as the most threatened due primarily to hydrological developments that have disrupted water flow with serious ecological consequences. The Park receives approximately one million visitors annually, with nearly one quarter of the Park's visitors being international travelers.

The Foundation's position is that the health of the Everglades ecosystem is not only vital to the environment, but also to the economy and quality of life in South Florida. One in three Floridians depends on a healthy Everglades ecosystem for their drinking water supply. The organization has assembled a team of scientists, policy experts and communications professionals and works with partners on several fronts to educate, advocate and litigate--when necessary--to advance Everglades restoration. In addition, the Foundation provides grants to like-minded local, national and international organizations and collaborates with other business, civic and environmental groups to form coalitions and set priorities to move restoration initiatives forward.