(Miami-Dade County, FL) -- For many travelers, their first impression of Miami-Dade County is one of the 79 warm and friendly volunteers at Miami International Airport. One of those extraordinary volunteers is Ray Simpson, who was named MIA's Volunteer Ambassador of the Year at the airport's Volunteer Ambassador Recognition gala on Tuesday, April 12. Simpson, a Coconut Grove resident, has given over 2,550 hours of service during his seven-year tenure as a volunteer at MIA. A native New Yorker, he is a retired U.S. postal employee and a veteran of the New York City Transit Department. While with the Transit Department, Simpson is credited with saving a life in a subway crash.
After 60 years of work, Simpson retired only to find that he missed being involved. Today at MIA, he is anything but uninvolved, whether it's driving the terminal trolley, manning the bus station on the arrivals level information counter, or simply assisting passengers whenever he sees them in need. He was one of the first volunteers ever at MIA and seldom misses a day of work, unless he and his wife Ann, of 55 years, are on a cruise.
"We are so proud of Ray and his dedication to customer service at MIA," said Aviation Director José Abreu. "We want every employee and volunteer to be an ambassador for MIA and Ray is one of the best."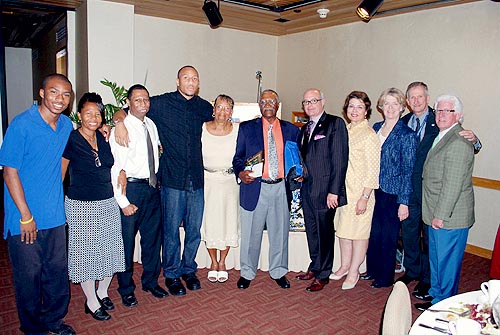 Pictured from left to right: Simpson family members with MIA Volunteer Ambassador of the Year winner Ray Simpson; MDAD Aviation Director José Abreu; Assistant County Manager Ysela Llort; MDAD Terminal Operations and Customer Service Division Director Dickie Davis; MDAD Deputy Director of Operations Ken Pyatt; and GMCVB President and CEO Bill Talbert.
Simpson received a plaque and two tickets from American Airlines to travel anywhere in the Continental U.S., the Caribbean, Canada or Mexico. For more information about volunteering at MIA, please visit: .