(Miami-Dade County, FL) -- Miami International Airport's latest art exhibition, which opened May 18, features intricately woven baskets by women from former warring tribes within the African country who have literally found a common thread after a violent conflict in 1994 that led to nearly one million deaths.
Rwanda: A Path to Peace, on display through December in MIA's South Terminal Gallery, opened during the anniversary of Rwanda's 100-day war from April to July in 1994 that tore the nation apart and left its population ratio at 70 percent women. With the support of various non-profit groups, thousands of these women from both the Hutu and Tutsi tribes have turned to basket weaving as a source of economic development, reconciliation and rebuilding, as they now weave side by side.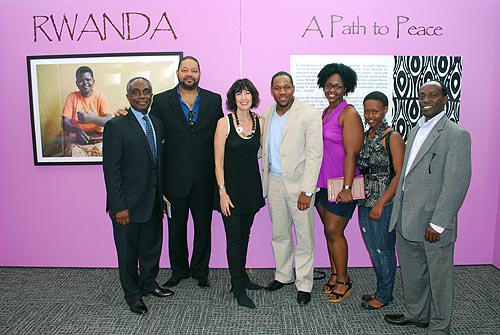 Pictured from left to right: Tony Okonmah, President of the Foundation for Democracy in Africa; Andrew Shirly, Rwanda American Chamber of Commerce (RACC) membership coordinator; Yolanda Sánchez, Ph.D., Miami-Dade Aviation Department Fine Arts and Cultural Affairs Division Director; Carrington Bester, Miami Carol City Senior High School graduate and Rwanda exchange student; Christelle Irakoze, RACC volunteer; Huberte Dushine, RACC volunteer; and Charles S. Gasana, RACC Director and Founder.
More than 30 students from the South Miami K-8 expressive arts magnet program were the first to view the exhibit and also received a weaving lesson from a local fiber artist.
"Rwanda: A Path to Peace illustrates an amazing story of cultural and creative expression in the wake of tragedy," said Yolanda Sánchez, PhD., Miami-Dade Aviation Department Division Director of Fine Arts and Cultural Affairs. "It is a perfect exhibition for our South Terminal Gallery, which features handmade artwork from around the world."