(Miami-Dade County, FL) -- Seven Minutes in Heaven, a collection of seven unique quilts by award-winning textile artist Amy Vigilante, is the latest art exhibition on display at Miami International Airport's Central Terminal Gallery in Concourse E.
Vigilante taught herself to sew and to calm her fears during the active hurricane season of 2004, she started cutting up pieces of fabric she had been collecting to begin her first quilt. She pieced together one quilt by machine during Hurricane Charley, tied the quilt during Hurricane Frances, fled to New York during Hurricane Ivan and started a new quilt during Hurricane Jeanne. Vigilante's pieces are constructed as traditional quilts with ornate tops, batting and backing. Almost every quilt has her signature hurricane tracks stitched into it.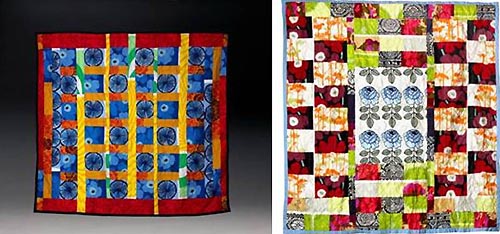 From left to right: Amy Vigilante's quilts Yogi, 2009 and Cubby, 2011,
are both named after dogs belonging to family and friends.
"Vigilante is an artist who creates her designs based on her own experiences and surroundings, down to the names of the quilts - all named after small dogs belonging to family and friends," states Yolanda Sanchez, Ph.D., Miami-Dade Aviation Department Division Director of Fine Arts and Cultural Affairs. "Sometimes the patterns are chaotic and sometimes calm, just as the uncertainty of a hurricane, yet always a symbol of warmth, safety and comfort during troubling times."
Vigilante has been Director of the University Galleries at the University of Florida since 2002. She has a Master of Fine Arts in Painting and a doctorate degree in Art Education from Florida State University. As a practicing artist, Vigilante has exhibited in numerous group and solo shows and has received several awards including a State of Florida Individual Artist's Fellowship. Her current work in textiles has traveled to eight venues in Florida and Georgia since 2008.
Seven Minutes in Heaven will be on display through September at MIA's Central Terminal Gallery, located in Concourse E just past the security checkpoint. For more information, contact the Division of Fine Arts and Cultural Affairs at 305-876-0749 or go to .