(Miami-Dade County, FL) -- Lauren Stover, Miami-Dade Aviation Department Assistant Director for Public Safety, Security and Communications, was a recipient of the 2010-2011 Outstanding Law Enforcement Officer (OLEO) Award of the Year from the U.S. Attorney's Office of the Southern District of Florida. Stover was recognized for her efforts in security at Miami International Airport (MIA), making this the first time the Miami-Dade Aviation Department received such a distinction for their security director. The OLEO awards were presented by United States Attorney Wilfredo A. Ferrer at a ceremony on October 4 at Miami-Dade College's Wolfson Campus in downtown Miami, with more than 30 agencies including the Miami-Dade Police Department being recognized.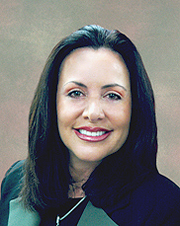 Lauren Stover
Assistant Aviation Director
for Public Safety, Security and Communications
for the Miami-Dade Aviation Department (MDAD)
The OLEO Award primarily recognizes members from federal, state and local law enforcement organizations who have distinguished themselves with the work they performed in a criminal prosecution. OLEO Award recipients are nominated by Assistant U.S. Attorneys from the Miami, Ft. Lauderdale, West Palm Beach and Ft. Pierce offices of the United States Attorney's Office.
Appointed by Aviation Director José Abreu, Stover is responsible for the day-to-day oversight of Miami International Airport's safety and security operations, including the police and fire rescue divisions. She is the first woman Assistant Director in the history of MIA to oversee its security operations.
In partnership with the Miami-Dade Police Department, she launched Behavior Pattern Recognition training at MIA in 2007, making it the first U.S. airport to train its civilian employees to detect suspicious behavior. To date, more than 43,000 airport workers have received the training, which has resulted in more than 10,000 tips to police and more than 500 arrests. She has also helped MIA achieve its lowest crime rate in 20 years.
As a 27-year veteran of Miami-Dade County government, Stover was recruited in February 2003 by the newly created Transportation Security Administration (TSA) from a senior management position she held at MIA. On March 1, 2003, the Department of Homeland Security (DHS) officially commenced operations, naming Stover as their lead coordinating all Public Affairs for DHS in the southeastern U.S. She later returned to the Aviation Department in 2006 as Assistant Director of Public Safety, Security and Communications.
Stover credits this recognition to the outstanding partnership of all the local, state and federal agencies as well as the airlines supporting the Miami-Dade Aviation Department's security mission under Director José Abreu and Deputy Aviation Director Kenneth Pyatt.