(Miami-Dade County, FL) -- Sewn Dreams 1971-2011, a retrospective mix of eclectic art and vintage art to wear by Miami Beach artist Dina Knapp, is the new art exhibition on display at Miami International Airport's Central Terminal Gallery in Concourse E.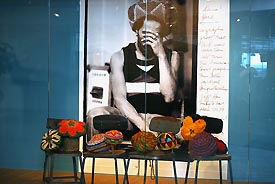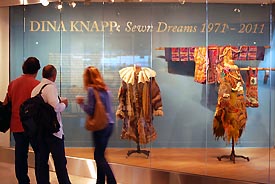 |
For hi-res images, go to http://www.miami-airport.com/photos.asp.

Knapp, whose client list includes celebrities such as Cher, Bob Marley, Joanne Woodward, Elton John and Phyllis Diller, is regarded as a pioneer of the 1970's Art to Wear movement. She has been costuming dancers, actors, opera singers and performance artists in Miami for three decades with work that features crocheted and appliquéd clothing. Her history and memory series compress history and culture through a layering of objects and images incorporating nostalgic postcards, painting, crochet, vintage fabrics, found objects and tourist souvenirs. The Miami Beach series, which includes works from 1993 to the present, features iconic, frolicking bathing beauties and famous landmark buildings adorned by plastic souvenirs that depict South Florida. The Blue Girl series is the most recent of her work and reflects personal expressions about women in the world today inspired by postcards a friend began sending her from Paris in the 1970's.
"While recognized for her wearable art, the extent and variety of Dina Knapp's creativity is welcomed as a fabulous surprise by all who see the exhibition," states Yolanda Sanchez, Ph.D., Miami-Dade Aviation Department Division Director of Fine Arts and Cultural Affairs. "The work is like her home - a collage of layered material, found objects and tourist souvenirs woven into witty commentaries on our lives and locale."
The recipient of numerous grants and awards, Knapp's work has been featured in various books and publications and is also included in many museum and private collections. Since moving to Miami Beach 34 years ago, her work continues to evolve in innovative and one-of-a-kind forms.
Sewn Dreams will be on display through February at MIA's Central Terminal Gallery, located in Concourse E just past the security checkpoint. For more information, contact the Division of Fine Arts and Cultural Affairs at 305-876-0749 or go to http://www.miami-airport.com/mia_galleries.asp.