(Miami-Dade County, FL) -- On Friday, January 13, coffee icon Juan Valdez, who has represented more than half a million Colombian coffee growers for more than 50 years, greeted travelers while celebrating the opening of the newest Juan Valdez Café location near gate D-24 at Miami International Airport.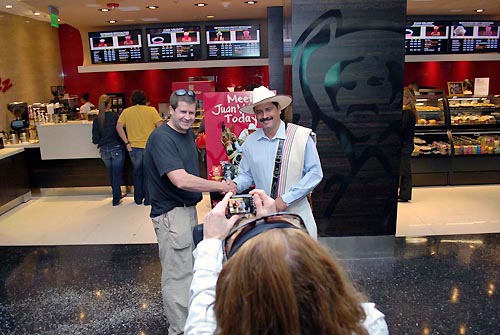 To download hi-res images, go to http://www.miami-airport.com/photos.asp.
The world-famous character offered samples of Colombian coffee and took pictures with passengers at the café, which opened for business on December 23 as the seventh in North America and the fifth in a U.S. airport. During its first week of operation, the MIA location enjoyed more than 10,000 visitors. In addition to Colombian coffee, the café offers pastries, bagels, muffins, sandwiches, salads and more. The new café was opened in association with NewsLink, an airport concessionaire, and Procafecol, the company that manages the Juan Valdez brand.
About the Juan Valdez® brand
In 2002, the Colombian Coffee Growers Federation, a non for profit organization that represents more than 500,000 small coffee producers, launched the Juan Valdez® signature brand for coffee shops. They were named after the advertising icon that has represented Colombia´s coffee growers for more than 50 years. Given the new brand acceptance by consumers, a few years later distribution of Juan Valdez® signature products began in other channels both in Colombia and in other countries. The Juan Valdez® Cafés are currently considered synonymous of the highest quality standards for Colombian coffee consumers. They also ensure that Colombian coffee growers get better prices for their coffees. For more information, visit www.juanvaldezcafe.com or www.cafedecolombia.com .
About NewsLink®
NewsLink® is a Miami-based company that employs more than 500 customer service oriented individuals. NewsLink® owns and operates retail and food & beverage locations at Miami, Ft. Lauderdale-Hollywood, Boston-Logan, Newark Liberty, John F. Kennedy and Cleveland Hopkins International Airports. In addition, for the third consecutive year (2009, 2010 and 2011), NewsLink® has been recognized as the Best Newsstand Operator, Small Retailer Division, by Airport Revenue News, a leading trade publication in the airport concessions industry.