(Miami-Dade County, FL) -- Classical paintings are humorously re-created in The Masterpieces, the latest art exhibition at Miami International Airport that art lovers and the common passer-by alike are sure to enjoy. On display through June 2012 in MIA's Central Terminal Gallery, the exhibition is the final phase in Kristen Thiele's Super Cat series, which integrates cat and dog figures into famous works of art.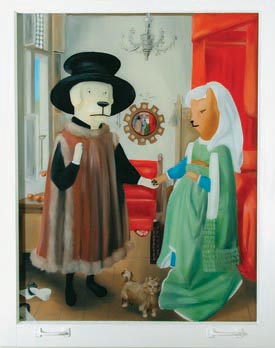 For hi-res images, go to http://www.miami-airport.com/photos.asp
Each work in The Masterpieces was painted on the back of a discarded window pane in the style of the 15th century German painting technique hinter glas malerei, which literally means "behind glass painting." Therefore, what is seen from left to right was actually painted from right to left in reverse. Accompanying each piece of Thiele's work is the image and description of the original masterpiece.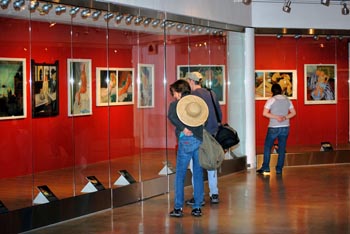 For hi-res images, go to http://www.miami-airport.com/photos.asp
Thiele was born and raised in Miami, where she works today. The recipient of numerous scholarships and awards, Thiele's work has been included in numerous books and publications. She graduated with a Bachelor of Fine Arts from the School of the Art Institute of Chicago and a Master of Fine Arts from Miami International University of Art and Design. "Thiele has infused humorous images into some of the world's most famous works of art to educate and entertain viewers who may not normally be attracted to these classics," states Yolanda Sanchez, Ph.D., Miami-Dade Aviation Department Division Director of Fine Arts and Cultural Affairs. "Her exhibit gives viewers a sample of art history with a touch of whimsy and wit, which make it a perfect addition to our rotating art program."
MIA's Central Terminal Gallery is located post-security in Concourse E. For more information, contact the Division of Fine Arts and Cultural Affairs at 305-876-0749 or go to http://www.miami-airport.com/mia_galleries.asp.