(Miami-Dade County, FL) -- On Wednesday, April 11, federal, state and county officials held a ribbon-cutting ceremony to celebrate Kendall-Tamiami Executive Airport's newly extended runway, which adds 1,000-feet to the airport's primary 5,000-foot south runway.
The new runway will allow nearly any of the new generation corporate and private jet aircraft to carry increased fuel and/or cargo load and fly to key destinations in Central and South America and the Caribbean, which was previously impossible without intermediate refueling stops. Kendall-Tamiami serves as a key reliever airport for Miami International Airport, but had been hindered in that effort by the limitations of its former 5,000-foot runways.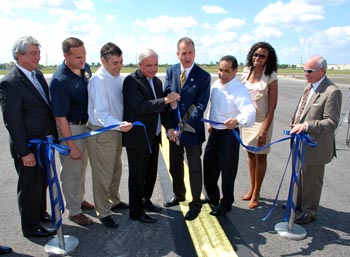 Cutting the ceremonial ribbon, from left to right: Florida Department of Transportation District Six Secretary Gus Pego; State Representative Frank Artiles; U.S. Representative David Rivera; Miami-Dade County Mayor Carlos A. Gimenez; U.S. Representative Mario Diaz-Balart; Board of County Commissioners Chairman Joe A. Martinez; FAA Program Manager Krystal Ritchey; and Miami-Dade Aviation Director José Abreu.
To download a hi-res version of this photo, go to http://www.miami-airport.com/photos.asp.
"Creating jobs is my top priority as Mayor, and the Tamiami runway extension is a project that will help meet that goal," said Miami-Dade County Mayor Carlos A. Gimenez. "It's a direct knock-on effect: longer runway, more advanced aircraft, more support services, and more jobs for Miami-Dade residents."
The runway extension project cost $4.43 million, with 95 percent of the funding paid by a grant from the Federal Aviation Administration (FAA) for $4.2 million and the remainder from the Miami-Dade Aviation Department. Kendall-Tamiami Executive generates more than $51 million in business revenue and more than 750 jobs in the local economy, according to a 2010 economic impact study.
"This extension will do nothing but benefit the business owners and residents around the airport by attracting more private jet travelers to make a stop in Miami-Dade County," said County Commission Chairman Joe A. Martinez. "As the economy continues to rebound, this longer runway will enable us to expand our economic impact."