(Miami-Dade County, FL) -- When Rossana Palacios relocated to Miami from Ecuador in 2003 as a 21-year-old and experienced the challenges of landing at a busy international airport, she promised herself she would do something to help others in her situation. She has kept her promise since becoming a Volunteer Ambassador at MIA four years ago, and was recognized for her service and dedication as the MIA Volunteer Ambassador of the Year at the airport's annual gala dinner on April 27.
Palacios received two round trip tickets from American Airlines to fly anywhere in the continental U.S., the Caribbean or Mexico, and was honored by Miami-Dade County Commissioner Sally Heyman, Miami-Dade Aviation Department Director José Abreu and Greater Miami Convention and Visitors Bureau President and Chief Executive Officer William D. Talbert III.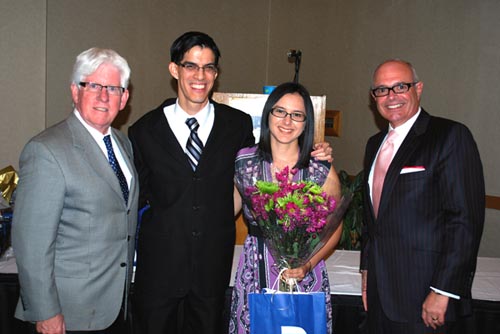 At MIA's Volunteer Ambassador Recognition Gala: GMCVB President and CEO William D. Talbert III;
Rossana's husband, David Baidal; Rossana Palacios; and MDAD Director José Abreu.
Palacios, who lives near Jackson Memorial Hospital with her husband, a JMH internal medicine resident, assists passengers 20 to 30 hours a week at one of MIA's information counters or transporting them on the MIA courtesy trolley. She is one of MIA's 80 volunteer ambassadors assigned to various areas of the airport.
"I also felt lost when I arrived in the U.S. and I want to make sure that doesn't happen to others," said Palacios, a magna cum laude graduate from the School of Hospitality and Tourism at Florida International University. "Helping others gives me a great feeling of accomplishment. When you are happy with what you do then you know for sure you are at the right place."
"We honored Rossana with this award, but we are the ones who are truly honored to have her as one of our volunteer ambassadors," said Miami-Dade Aviation Department Terminal Operations and Customer Service Division Director Dickie Davis. "She is another shining example of the dedicated men and women who generously devote their personal time to making a positive first impression on our passengers."