(Miami-Dade County, FL) -- On July 25, Miami-Dade Aviation officials and Consul General of Brazil Ambassador Hélio Vitor Ramos F. gathered at Miami International Airport's South Terminal Gallery to celebrate the world debut of Sem Fronteiras/Without Borders, a collection of innovative work by 23 Brazilian artists, artisans and designers from various regions of the country. The exhibition, on display at MIA's South Terminal Gallery through December, is presented by Miami-Dade Aviation Department's Fine Arts & Cultural Affairs Division and Zoë Melo of TOUCH, a renowned curator of Brazilian design.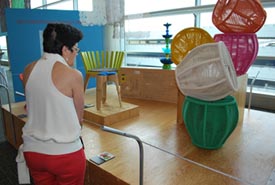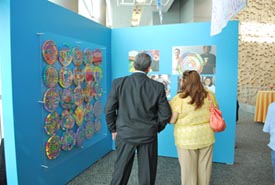 To download hi-res photos, go to http://www.miami-airport.com/photos.asp.
With an emphasis on local resources, each artist brings their own vision and cultural influence to their work, which includes textiles, jewelry, furniture, ceramics, basketry, fashion, photography, painting and sculpture, creating an exhibit that traverses the Brazilian landscape. Highlighted throughout the exhibition is the importance of community, the preservation of traditions and local skills through product design, the use of natural materials offering sustainable alternatives and a commitment to social responsibility that captures the spirit of Brazil.