(Miami-Dade County, FL) -- Natural Curiosities, an eclectic new collection by five local artists on display at Miami International Airport through October, illustrates both the microscopic and grand wonders of nature through five different forms of mixed media.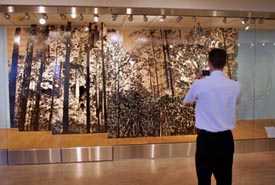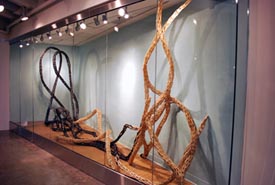 To download hi-res photos, go to http://www.miami-airport.com/photos.asp.
Miami artists Jennifer Basile, Regina Jestrow, Carrie Sieh, Gerry Stecca and Liza Sylvestre utilize plywood, fabric, copper wire, watercolors and even clothespins to demonstrate the dynamic creativity of nature.  Basile's contribution is a three-dimensional, 16-foot forest created from plywood and permanent marker, and Jestrow's fabric constructions resemble the formation of cell structures.  Sieh's knitted-wire formations drop from the ceiling in strands and clusters like fruit vines, waiting to be plucked, and Stecca's meandering structure, made primarily of wood clothespins, resembles plants blossoming in a terrarium.  Lastly, Sylvestre's watercolor pieces depict images such as the play of light on water or sand on the beach.
"The work of each artist - both with respect to the choice of medium and final expression – reflects a unique vision and relationship to nature, shifting the focus in a range from the cellular to the macro level," said Yolanda Sánchez, Ph.D., Miami-Dade Aviation Department Fine Arts & Cultural Affairs Division Director.
The exhibition, located in MIA's Central Terminal Gallery just past the Concourse E checkpoint, is presented by MDAD's Fine Arts & Cultural Affairs Division.  For more information, go to http://www.miami-airport.com/mia_galleries.asp