(Miami-Dade County, FL) -- Three areas of Miami International Airport some may consider ordinary are now extraordinary, thanks to three new innovative art installations.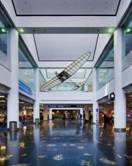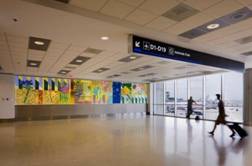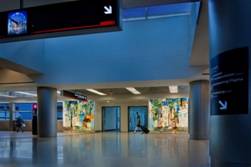 Air Chair, a construction of a discarded wheelchair and steel and wood materials that floats above passengers near North Terminal's gate D-14, was inspired by wheelchair-bound men whom New York artist Paul Villinski saw during his frequent jogs near two Veteran Affairs hospitals on Roosevelt Island. As a sculptor and paraglider pilot, he wanted to contrast the image of limitation (a wheelchair) with the freedom of flight. After asking himself, "What I would want, were I confined to a chair by disability or old age?" Villinski concluded, "If I were to lose use of my legs, I would want to trade them for wings. Air Chair is my gift to the Vets at Roosevelt Island, and to all of us who believe that life's challenges can be met with hope, imagination, determination and grace."

Catching the eyes of passengers walking to and from Concourse D skytrain Station 1 is Roberto Juarez' MIA Flower Fence, a painted mural that juxtaposes botanical-style renderings of Florida wildflowers with the geometric patchwork designs of Florida's Miccosukee Tribe of Indians. As described by Juarez, MIA Flower Fence features "a glimpse of Miami's clear skies and starry nights celebrates the splendor of Florida's tropical climate and blossoming gifts of nature." Juarez' work has earned him the Prix de Rome in 1997, a Guggenheim fellowship in 2001-2002, and induction to the National Academy in 2011.

Greeting travelers at the exit doors between the South Terminal international greeter's lobby and the Flamingo parking garage is Hortensia, two kaleidoscopic mixed-media murals by local artist Aramis O'Reilly. According to O' Reilly, "My work is an exercise in creating moments that describe the play between the act of creation and the deeper forces of design with purpose. In this work, I represented nature vaguely abstracted and created a design that attempts to express the exuberance of life." O'Reilly, an art professor at Miami's New World School of the Arts, is also the recipient of the Cintas Fellowship Award.

For more information about the new installations, go to http://www.miami-airport.com/site_specific.asp.