(Miami-Dade County, FL) -- Harmonic Convergence, the public art mural by Boston-based architect Christopher Janney that greets passengers at Miami International Airport's people mover station, has been named the Interior Division winner of the 2012 Solutia World of Color Awards. An international jury of five industry professionals from Bangkok, Sao Paolo, London, Chicago and Hong Kong chose Harmonic Convergence as the top interior design project worldwide for its innovative use of Vanceva laminated color glass products, which are manufactured by Solutia, Inc. Only one winner is chosen for the interior and exterior divisions, with an honorable mention for each category.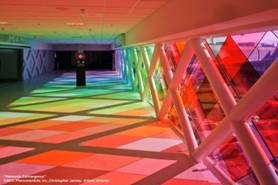 For hi-res images, go to http://www.miami-airport.com/photos.asp.


The annual international awards program honors architects, interior designers, glass fabricators, furniture designers, glazing contractors and engineers, and other industry professionals for their innovative design use of colored laminated safety glass in building design and interior spaces around the world.


According to Solutia, "Sunlight, sound, and color unite spectacularly in this multi-faceted mural in South Florida. Winner of the 2012 World of Color Awards Interior Division, 'Harmonic Convergence' provides a unique 'immersive color experience' for travelers. While speakers at either end of the walkway resonate with recordings of tropical birds and thunderstorms, sunlight streams through a wall of laminated glass panels encompassing the entire color spectrum." For more information about the award, go to http://worldofcolorawards.com/winners.

Installed for the opening of the MIA people mover system in September 2011, Harmonic Convergence features a 72-foot-long window wall with diamond-shaped panes of colored glass in front of a white structural steel "X-bracing" frame. With a palette of more than 150 transparent colors, Janney has created a gradually changing pattern ranging from deep reds to bright violets, similar to a rainbow.

The project is part of Miami-Dade County's Art in Public Places program and is located at the entrance to MIA from the MIA Mover, which transports passengers between the airport and the Miami Intermodal Center for bus, rail and rental car services. As travelers enter the Harmonic Convergence area, they hear a complex set of sounds Janney recorded during trips to the Florida Everglades, scuba dives in the ocean, and other natural environments of South Florida. Two video cameras installed in the ceiling feed information to the computer regarding the pedestrian activity within the space, influencing the density of the sound score. At the top of each hour, a short composition with percussion instruments plays to mark the time of day.