(Miami-Dade County, FL) -- Miami-Dade Aviation Director José Abreu will receive the Center for Urban Transportation Research's (CUTR) 2012 Transportation Achievement Award at the organization's annual awards event today in Tampa.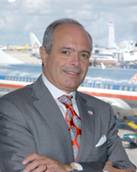 Aviation Director José Abreu
(For bio, go to http://www.miami-airport.com/jose_abreu.asp)
The award recognizes an individual's overall contribution to the transportation profession. The awardee is selected based on lasting contributions to the transportation field, impact of those activities, and general leadership and mentorship in the transportation community.
"Congratulations to José for earning the 2012 Transportation Achievement Award. The Center for Urban Transportation Research couldn't have picked a more worthy recipient," said Miami-Dade County Mayor Carlos A. Gimenez. "Miami-Dade County and the entire Sunshine State owe Director Abreu a debt of gratitude for his decades of public service and lasting contributions to our transportation infrastructure. José is truly one-of-a-kind, and his boundless energy and sense of humor have helped him to successfully deliver complex, high-stress projects like the massive MIA expansion."
Abreu has been Miami-Dade Aviation Director since July 2005, responsible for the operations of Miami International Airport (MIA) and four general aviation airports in the Miami area. He has also overseen one of the largest airport expansion programs in the U.S., a $6.4 billion capital improvement program that has added new terminals, roadways and other infrastructure at MIA. Under his leadership, MIA has doubled in size to more than 7.5 million square feet, with the final sections of the airport's capital improvement program scheduled for completion in early 2013.
Before joining the Department, he served for two and a half years as Secretary of the Florida Department of Transportation (FDOT) under Governor Jeb Bush. In this role, he oversaw FDOT's seven districts and the Florida Turnpike Enterprise, encompassing the entire state, 7,500 employees and an annual budget of $9 billion. Prior to his position as Secretary, Mr. Abreu served 18 years in progressively senior positions at FDOT, including eight years as District Six Secretary for Miami-Dade and Monroe counties.
The CUTR at the University of South Florida, established in 1988, is an internationally recognized resource for policymakers, transportation professionals and the public. CUTR's faculty of 45 full-time researchers, which includes experts in economics, planning, engineering, public policy and geography, provides research, policy analysis, comprehensive training, education and technical assistance. The multi-disciplinary research faculty receives more than $8 million per year in contracts and grants to support its research, education, training and technical assistance missions. CUTR also is the home for the National Center for Transit Research and the National Bus Rapid Transit Institute. For more information, go to http://www.cutr.usf.edu/.
# # #