(Miami-Dade County, FL) -- On November 5, the Miami-Dade Aviation Department (MDAD) unveiled a "Wall of Honor" photo gallery at Miami International Airport that salutes 37 MDAD employees who are serving or have served in the U.S. armed forces. The Wall of Honor, which features the employees pictured in their original military uniform, will be on display through the week of Veterans Day until November 17. The gallery is located at MIA's Central Terminal E on the second floor near the elevators for the MIA people mover.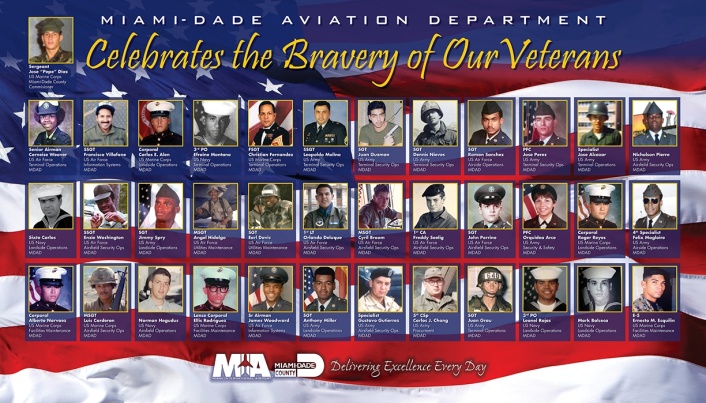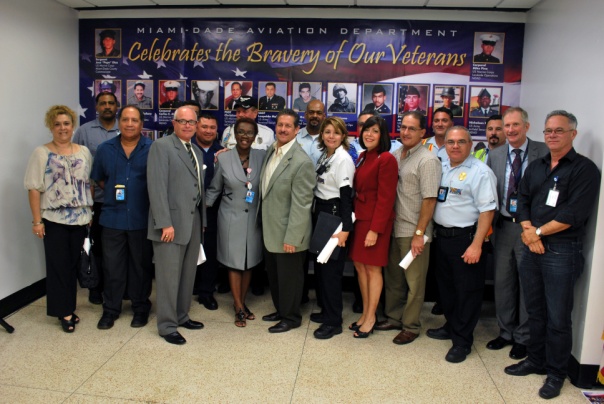 County Commissioner Jose "Pepe" Diaz and Aviation Director Jose Abreu with MDAD employees at the Wall of Honor.
For hi-res versions of the photos, go to http://www.miami-airport.com/photos.asp
Miami-Dade County Commissioner Jose "Pepe" Diaz, a U.S. Marine Corps veteran and Military Liaison for the County, joined MDAD officials for the dedication ceremony and is included in the gallery.
"As a Commissioner, I was honored to take part in this very special ceremony to salute our Aviation Department employees," said Commissioner Diaz, who is also Chairman of the County's Military Affairs Board. "It is fitting to pay tribute to our men and women who have sacrificed so much for our country."