Miami-Dade County and U.S. Customs and Border Protection (CBP) officials hosted a press conference on November 15 to announce the launch of Passport Express – Miami International Airport's new automated passport control kiosks. MIA is one of only three U.S. airports currently using the new technology, which allows U.S. and Canadian citizens to have their passports processed in less than two minutes via a self-service kiosk instead of waiting in line for a CBP officer. The Miami-Dade Aviation Department purchased and installed the kiosks to improve wait times for international travelers at MIA.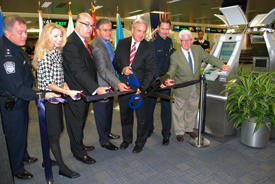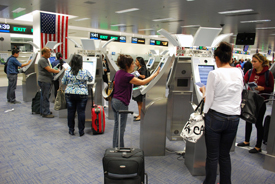 At left, CBP Port Director Roland Suliveras; American Airlines Vice President Marilyn DeVoe; Aviation Director Emilio T. Gonzalez; Commissioner Bruno Barreiro; Mayor Carlos A. Gimenez; CBP Director of Field Operations Vernon Foret; and GMCVB President & CEO Bill Talbert cut the celebratory ribbon. At right, passengers use the new Passport Express kiosks.
To download hi-res versions of these photos, go to http://www.miami-airport.com/photos.asp
"With faster processing times and greater convenience, we expect the new Passport Express kiosks to be a true game-changer for the millions of passengers from abroad who arrive in our community each year," said Miami-Dade County Mayor Carlos A. Gimenez.

Thirty-six Passport Express kiosks have been installed in MIA's North Terminal and another 12 will be installed in the airport's South Terminal in 2014. Every four kiosks do the work of approximately one CBP officer, making the 36 kiosks in North Terminal the equivalent of adding nine new CBP officers to MIA's operations.

"We are proud to launch Passport Express for U.S. and Canadian citizens entering the U.S. through MIA," said Miami-Dade Aviation Director Emilio T. González. "Passport Express also allows CBP to assign more officers for non-U.S. citizens, which improves the arrival process for all passengers. We look forward to providing our international travelers an enhanced experience the next time they arrive at MIA."

International passenger traffic at MIA has grown by more than 15 percent since 2010, making it the fastest-growing U.S. airport for international passengers the last three consecutive years. Total passenger traffic at MIA grew 2.1 percent through September to 30.5 million travelers, powered by a 4.4-percent jump in international traffic to nearly 15.2 million passengers - nearly half of MIA's total passengers so far this year.