Miami International Airport proudly welcomed its newest international routes on November 21 when hub carrier American Airlines launched service to four new destinations: Cozumel, Mexico; Curitiba and Porto Alegre, Brazil; and Milan, Italy.
"Congratulations to American Airlines on this diverse new group of routes, which will provide a huge boost to our local economy and new travel options for our residents and visitors," said Miami-Dade County Mayor Carlos A. Gimenez.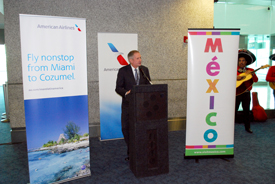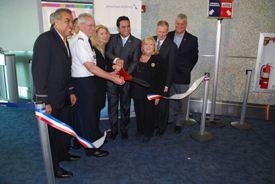 At left, Miami-Dade Aviation Department (MDAD) Deputy Director Ken Pyatt speaks at the Cozumel route launch event. At right, officials from MDAD, American Airlines, the Greater Miami Convention and Visitors Bureau, and the Mexico Tourism Board cut the ribbon for the new route.
To download hi-res versions of these photos, go to http://www.miami-airport.com/photos.asp.
The new daily service to Brazil, which makes a stop in Curitiba before continuing to Porto Alegre, brings the number of Brazilian destinations served by MIA to nine – more
than any other U.S. airport. Brazil is MIA's top international market with more than 1.6 million travelers, and growth is expected to continue with the 2014 World Cup next June and a tenth Brazilian route, Belem, commencing in February. MIA now serves nine of Brazil's 12 World Cup host cities.
New service to the Caribbean resort island of Cozumel represents MIA's fourth destination in Mexico, which ranks second to Brazil among MIA's top international markets with more than 1.2 million passengers annually. The route will operate five times weekly from Miami. American's new daily non-stop service to Milan marks MIA's 14th European destination, and low-cost carrier Jetairfly is set to launch MIA's 15th route to Europe in April with non-stop service between MIA and Brussels.
"American Airlines' simultaneous launch of four new international routes from MIA speaks volumes about the strength of the Miami market and the partnership we enjoy with our hub carrier," said Miami-Dade Aviation Director Emilio T. González. "We applaud American for their continued expansion at MIA."