Delta Air Lines Customer Service Agent Niobe Rowan, an East Kendall resident, was named Miami International Airport's October Employee of the Month for her most recent act of customer service – quickly rebooking a flight for a couple starting a vacation the day after they missed their connection to the Caribbean.
A flight attendant contacted Rowan after a couple became very upset when they missed their connection to St. Kitts due to bad weather. She immediately took action to ensure the couple made a flight the next day. The action was the latest of many for Rowan, who has been recognized several times on Delta Air Lines' Wall of Fame that highlights outstanding customer service by the 70 employees at Delta Air Lines Miami station. Additionally, Rowan started a drive in 2012 to ship care packages to the U.S. Military stationed in Afghanistan that has resulted in more than 1,500 packages sent to soldiers since she started her campaign. The campaign, US2YOU, has generated support from Delta Air Lines co-workers in Miami and across the country.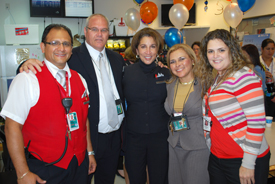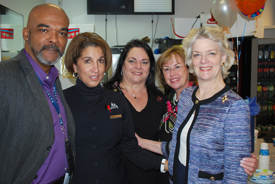 MDAD and Delta Air Lines staff honor MIA October 2013 Employee of the Month Niobe Rowan.
To download hi-res photos, go to http://www.miami-airport.com/photos.asp.
"Niobe's compassion for people is exemplary," said Miami-Dade Aviation Director Emilio T. González. "Whether it's thank-you letters from soldiers in Afghanistan or from satisfied passengers, Niobe is someone who puts smiles on people's faces wherever she goes, and she is obviously more than deserving of our Employee of the Month award."
Members of MIA's Rewards and Recognition Committee and Delta Air Lines co-workers surprised Rowan on the job on November 19 with a recognition celebration and presented her with her Employee of the Month certificate of appreciation. Winning the October Employee of the Month award makes Rowan eligible for MIA's Employee of the Year award, which includes a vacation getaway.