Inventory - It's About Time, a multi-faceted new art exhibition by world-renowned artists, architects and designers on display at Miami International Airport through February, features works by artists who incorporate design practices and designers who use traditional art methods.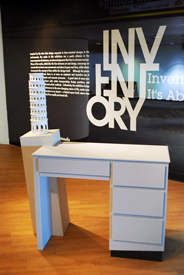 To download hi-res photos, go to http://www.miami-airport.com/photos.asp
According to Yolanda Sánchez, Ph.D., Miami-Dade Aviation Department (MDAD) Fine Arts and Cultural Affairs Division Director, Inventory is inspired by the idea that design responds to time-related changes in the environment. Collectively, the exhibition brings together a series of references to the ever-changing nature of life, made more poignant by its presentation in an airport, where time seems to simultaneously flow rapidly and stand still.
The 12 artists and partnerships featured in Inventory include: Cleotha Bell; Bradley Bowers; Brookhart Jonquil; Chen Chen & Kai Williams; Emmett Moore; Riccardo Brotini; Michael Whitney; Michelle Weinberg; Misha Kahn; Paul Clemence & Robert Landon; Rita Motta; and Rodolfo Agrella.
The exhibition, located in MIA's Central Terminal Gallery just beyond the Concourse E checkpoint, is presented by MDAD's Fine Arts & Cultural Affairs Division. For more information, go to http://www.miami-airport.com/mia_galleries.asp.