Fake Holidays, an exhibition of 36 color prints by Austrian documentary photographer Reiner Riedler now on display in Miami International Airport's Concourse F, provides a playful examination of modern society's preoccupation with leisure travel and exotic locations.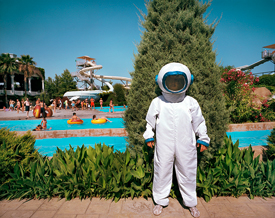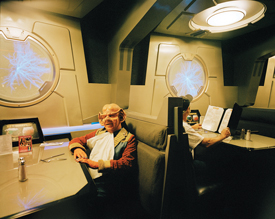 At left, the Topkapi Palace Hotel in Antalya, Turkey, 2006.
At right, the Star Trek Experience at the Las Vegas Hilton, 2005.
To download hi-res photos, go to http://www.miami-airport.com/photos.asp.
Based on a series of photographs by Riedler from 2004 to 2009 that later became a book by the same name, Fake Holidays displays replicated tourist destinations and simulated experiences in eight different countries, such as: the Window of the World Theme Park in Shenzen, China; Disney World's Epcot Theme Park in Orlando, Florida; the Star Trek Experience in the Las Vegas Hilton; and the Titanic Resort Hotel in Antalya, Turkey.
As Editor Jens Linworksy noted in the introduction of Riedler's book Fake Holidays, "Florida's Disney World hosts more visitors than Morocco, Tunisia, Egypt and Israel combined. New and more refined illusionary worlds are added every year, and the simulation business is booming. When wishes are out of reach, simulation is taking over our leisure time and our holidays."
"Fake Holidays depicts how many travelers improvise ways to bring exotic experiences closer to home," said Yolanda Sanchez, Ph.D., Miami-Dade Aviation Department (MDAD) Division Director of Fine Arts and Cultural Affairs. "For our travelers in Concourse F, which predominantly serves international flights, this exhibition of whimsical tourist destinations from around the world should be especially meaningful."
Riedler, who lives and works in Vienna, Austria, has exhibited internationally at leading institutions such as the Centre Georges Pompidou, Paris; the Leopold Museum and Künstlerhaus, Vienna; Sirius Art Center, Cork, Ireland and the International Festival of Photography Lodz, Poland among many others. His pictures have been published in magazines and newspapers such as National Geographic, Fortune, Newsweek, Le Monde, The New York Times and Der Spiegel.
Sous Les Etoiles Gallery will also feature Riedler's work in Booth E37 at this year's Context Art Miami Fair, taking place December 3-8 in Midtown Miami. Fake Holidays is presented at MIA by MDAD's Fine Arts and Cultural Affairs Division, in collaboration with New York's Sous Les Etoiles Gallery (www.souslesetoilesgallery.net). For more information, go to
http://www.miami-airport.com/concourse_f.asp.