Top officials from the U.S. Department of Homeland Security (DHS) visited Miami International Airport this week and met with Miami-Dade Aviation Department (MDAD) Director Emilio T. González to discuss security operations at the nation's second-busiest port of entry for international travelers. Acting DHS Deputy Secretary Rafael Borras and Acting U.S. Customs and Border Protection (CBP) Commissioner Thomas S. Winkowski travelled from Washington, D.C. to observe their agency's operations at the international gateway and to explore programs that will ensure continued passenger safety and expedited processing at MIA.

Director González and the federal agency heads discussed the innovative programs MIA is currently using to meet its unique security challenges, such as: the airport's new automated passport control kiosks, which MDAD launched in November to expedite the passport screening process for U.S. and Canadian citizens entering the country from abroad; and the CBP overtime reimbursement program that will allow MDAD to directly reimburse the federal government for unfunded CBP staffing during peak travel times. The group also considered future pilot programs designed to keep MIA at the forefront of security operations among major U.S. airports.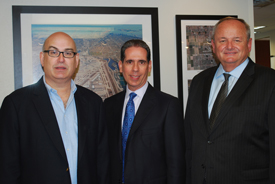 MDAD Director Emilio T. González welcomes Acting DHS Deputy Secretary Rafael Borras and Acting U.S. CBP Commissioner Thomas S. Winkowski to MIA.
To download a hi-res version of this photo, go to http://www.miami-airport.com/photos.asp

"It was great to meet with our partners from the Department of Homeland Security this week, and I certainly appreciate their time and interest," said Director González. "I know how tough their job is. Likewise, they now know just how unique MIA is from seeing it firsthand. We are a premier port of entry for international passengers, and the challenges we face here are unlike those at any other U.S airport. We are fortunate to enjoy a model relationship with DHS, and I remain committed to fostering that strong partnership for the benefit of our passengers and our County."
International passenger traffic at MIA has grown more than 15 percent since 2010 – the most among all U.S. airports – and MIA handles more international passengers than all other U.S. airports with the exception of New York's JFK. Additionally, MIA has the highest number of secondary passport control referrals of any U.S. airport, with more than 70 percent of its passengers being non-U.S. citizens or permanent residents during peak travel hours.