The Miami-Dade Police Department Airport District at Miami International Airport has officially deployed its first class of MIA Police Explorers – 25 young women and men ages 14 to 17 now patrolling MIA after completing a comprehensive, eight-week preparatory course. The members of the appropriately named "Explorer Post 747" have a strong interest in law enforcement, high moral character, commitment to academics, and a desire to serve their community.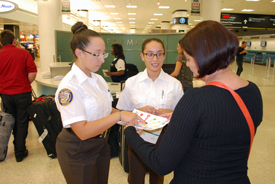 At left, members of MIA's inaugural Police Explorers class line up with their instructors and Miami-Dade Aviation Director Emilio T. González; at right, Police Explorers help a passenger with directions.

To download hi-res versions of these photos, go to http://www.miami-airport.com/photos.asp.
Led by Airport District Officer Andrew McManus, the inaugural Explorers class at MIA works directly alongside Airport police officers in the terminal. Their assignments – which are carried out in four-hour shifts during teacher work days, holidays and summer break – serve several purposes: assisting police K-9 teams with abandoned bags; identifying unattended vehicles on the upper and lower levels; and providing directions and assistance to passengers as they navigate the busy global gateway.
"As aspiring law enforcement officers, our Police Explorers have a wonderful opportunity to gain valuable on-the-job experience and to serve their community as goodwill ambassadors," said Miami-Dade Aviation Director Emilio T. González. "I commend them for their spirit of volunteerism, and I salute our Airport Police District for launching this program to prepare these young people for productive, purposeful futures."
Connect with MIA: