Federal and Miami-Dade County officials announced on December 20 a finalized agreement that now allows the Miami-Dade Aviation Department (MDAD) to pay U.S. Customs and Border Protection (CBP) for additional overtime staffing in Miami International Airport's passport control and customs screening areas. MIA is one of only three U.S. hub airports chosen by CBP to participate in its Reimbursable Services pilot program, which allows MDAD to reimburse CBP up to $6 million over five years for a maximum average of 800 additional CBP inspector hours per month.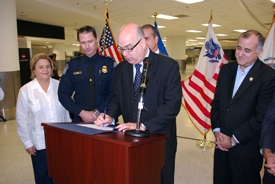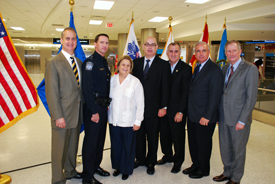 At left (L to R): Congressman Mario Diaz-Balart, CBP Director of Field Operations Vernon Foret, Congresswoman Ileana Ros-Lehtinen, MDAD Director Emilio T. González, County Commissioner Esteban Bovo, Jr., County Mayor Carlos A. Gimenez, and MDAD Deputy Director Ken Pyatt. At right, Director González signs the local annex agreement.
"I applaud the Aviation Department for ensuring that MIA was one of the first airports in the country to take advantage of this new program," said Miami-Dade County Mayor Carlos A. Gimenez. "As America's second-busiest port of entry and our community's gateway to the world, it is imperative we use every resource available to make the arrival process as customer-friendly as possible for our passengers."
Overtime reimbursement to CBP will be funded by MIA's operating budget, which is supported entirely by Aviation Department revenue and tenant fees. The reimbursement program, combined with new self-service passport control kiosks installed at MIA last month, is expected to significantly lower wait times for international arrivals at MIA.
Over the last five years, MIA has been the fastest-growing U.S. airport for international passengers, with growth of 24 percent since 2007. MIA's rapid growth, coupled with a growing CBP staffing shortage since federal sequestration budget cuts took effect in March, have led the Aviation Department to take advantage of the reimbursement program.
The Aviation Department, with the support of Mayor Gimenez and local members of Congress, made a concerted effort to be included in the pilot program once it was authorized under the Consolidated and Further Continuing Appropriations Act passed by Congress in March. Since his appointment in March, Miami-Dade Aviation Director Emilio T. González has met with CBP and Department of Homeland Security officials numerous times in Washington, D.C. and Miami to petition for MIA's inclusion in the program as well as to address the airport's long-term staffing needs.
"The reimbursement program is another important self-help measure we have taken to reduce wait times and provide an improved travel experience to our international passengers," said Director González. "I am extremely grateful to Mayor Gimenez, our congressional delegation, and CBP for their support in helping us reach this critical milestone."