Passengers and visitors at Miami International Airport (MIA) were treated to a surprise musical performance on January 2 by Mixtura, a 16-piece Latin big band featuring trombonist Chad Bernstein. Founded in Miami more than 20 years ago by the music-loving Succar family, Mixtura (http://mixturaproductions.com/newsite/portfolio/?tab=tab2) enjoys a strong following in their hometown. Bernstein (http://chadbernstein.com/HOME.html) is a member of popular local fusion bands Suénalo and The Spam All-Stars. He has collaborated with an impressive lineup of performers including Shakira, Pharrell, Pitbull and The Temptations.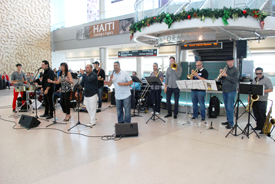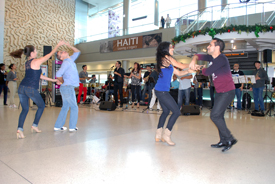 At left, Mixtura plays Salsa hits in the South Terminal's International Greeters Lobby. At right, band members get airport guests into the act.
To download hi-res versions of these photos, go to http://www.miami-airport.com/photos.asp

Mixtura and Bernstein thrilled airport guests in the South Terminal's International Greeters Lobby with classic Salsa hits and quickly had the audience dancing to their up-tempo Latin beat. Their performance is the latest in MIA's ongoing Musical Happenings
program, which began last summer and brings diverse musical performances to travelers and guests at the airport each month.
"We take great satisfaction in bringing diverse cultural experiences to our passengers and guests at MIA," said Yolanda Sánchez, Ph.D., Miami-Dade Aviation Department Fine Arts and Cultural Affairs Division Director. "Travelling can obviously be stressful – particularly over the holidays – so we aim to bring a little levity to the process with these live performances and to let our customers know we appreciate their business."
The Musical Happenings program is funded by a $40,000 grant from the Knight Foundation Arts Challenge and is being coordinated by the Miami-Dade Aviation Department's Fine Arts and Cultural Affairs Division. To learn more, visit http://www.miami-airport.com/art_and_exhibitions.asp.