Miami-Dade Aviation Director Emilio T. González met with a diverse group of high-level officials in recent days to share information about major capital projects at Miami International Airport and to strengthen ties with federal and international officials who play a critical role in the success of MIA.
Last Friday, Tampa International Airport (TPA) Chief Executive Officer Joe Lopano and his leadership team traveled to Miami to speak with Director González about the Miami Intermodal Center (MIC), the $2 billion transportation hub that enables MIA passengers to seamlessly connect with multiple modes of ground transportation, including rental cars, buses, metro, and heavy rail. The fact-finding mission included a tour of the MIC and helped inform Tampa's airport leaders as they prepare to build a similar facility at TPA. Lopano and González also agreed to explore ways that both airports could work together on mutually beneficial efforts.
This Monday, Congresswoman Ileana Ros-Lehtinen, whose district includes MIA, and U.S. Ambassador to Brazil Liliana Ayalde visited the airport to meet with Director González. The group discussed a range of topics including the pressing need for more federal staffing at America's second-busiest port of entry and Brazil's importance to the South Florida region as a top trade partner and driver of tourism. Also discussed were potential projects to promote South Florida tourism surrounding the upcoming World Cup in June.
The strength of the U.S.-Brazil relationship is particularly relevant to MIA: South America's largest and most populous nation is MIA's top international passenger market with 1.6 million annual travelers and more than 100 weekly flights. MIA now serves a total of nine destinations in Brazil – more than any other U.S. airport – with a tenth destination scheduled to begin service next month. Additionally, Brazil holds the distinction of being MIA's top trade partner in dollar value. As the World Cup quickly approaches and with the 2016 Summer Olympics on the horizon, the expected influx of international travelers flying to Brazil via MIA underscores the need for increased federal staffing levels at the airport.
On Tuesday, a Turkish delegation was at MIA to discuss future opportunities to connect the Gateway of the Americas with Istanbul, Europe's historic Gateway to Asia. Fatih Beyhan, Director of the Turkish American Chamber of Commerce of the Southeast U.S., and Turkish-born real estate developer Mehmet Bayraktar visited with the Aviation Director to explore the possibility of a Miami-Istanbul connection.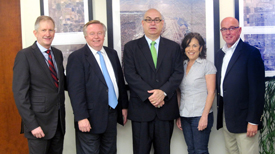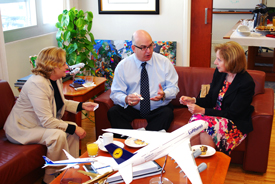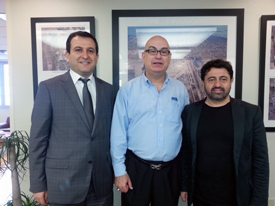 At left (l to r), Miami-Dade Deputy Aviation Director Ken Pyatt, Hillsborough County Aviation Authority Chairman Robert Watkins, Miami-Dade Aviation Director Emilio González, TPA Assistant Vice President for Media & Gov. Relations Janet Zink and TPA CEO Joe Lopano.
At middle, Congresswoman Ros-Lehtinen, Director González and Ambassador Ayalde meet.
At right, Fatih Beyhan of the Turkish American Chamber of Commerce and Mehmet Bayraktar with the Aviation Director.