During his visit with airport officials and community leaders at Miami International Airport today, Transportation Security Administration (TSA) Administrator John S. Pistole announced the first-ever dedicated TSA Preê lane for passengers connecting from international flights.
The new TSA Preê lane, located at the exit of MIA's North Terminal international arrivals facility, allows selected passengers after entering the country to experience expedited screening by the TSA for their connecting flight without removing shoes, belts, jackets, computers or liquids. The new TSA Preê lane is an added benefit at North Terminal's dedicated eight-lane security checkpoint for international arrivals Рa convenience not found at most U.S. airports.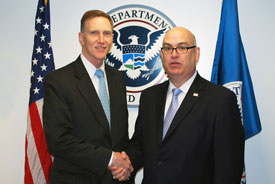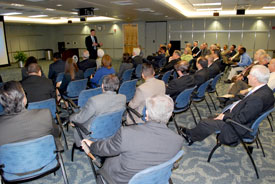 TSA Administrator John S. Pistole met with Aviation Director Emilio T. Gonzalez and more than 50 airport and community leaders at MIA on February 11.
To download hi-res versions of these photos, go to http://www.miami-airport.com/photos.asp.

"As the Transportation Security Administration continues to move forward with risk-based intelligence-driven security initiatives, the most impactful initiative continues to be TSA Preê," said Pistole. "Our agency is pleased to roll out this first-of-its-kind TSA Preê lane in Miami."
MIA is the busiest U.S. airport for international flights and the second-busiest for international passengers. With North Terminal handling more than 70 percent of MIA's arrivals, the
landmark TSA Preê lane will reduce checkpoint wait times for thousands of travelers daily who connect through the Gateway of the Americas.
Before making the announcement to dozens of MIA business partners, Pistole met with Miami-Dade Aviation Director Emilio T. González to discuss the new TSA Pre√™ lane and other TSA risk-based security initiatives planned for 2014.
"I greatly appreciate Administrator Pistole for choosing to implement this first-of-its-kind concept at MIA, and for recognizing the unique challenges we face as one of the fastest-growing U.S. airports for international passengers," said González. "We continue to explore new initiatives with the TSA to further enhance the screening process for all our travelers."