Seven Miami International Airport (MIA) workers were named Employees of the Month for reuniting a cat with her family when the cat went missing for three days after arriving on an overseas flight at MIA.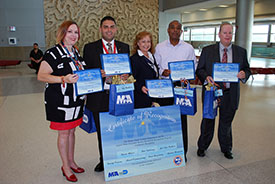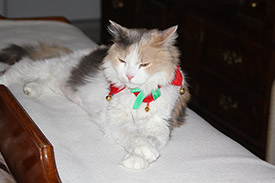 Missy the cat and MIA's December 2013 Employees of the Month winners Ines Gutierrez, Jose Luis Pacheco, Gloria Ulmer, Brent Commissiong and Lonny Craven.

To download hi-res photos, go to http://www.miami-airport.com/photos.asp.
When Missy the cat arrived from Cairo at MIA, her owners discovered that she had escaped from her crate and disappeared. Immediately, Lufthansa Station Manager Gloria Ulmer and Miami-Dade Aviation Department (MDAD) Airside Operations Division Director Lonny Craven spread the word via email to all employees about the missing cat. Three days later, MDAD Senior Airside Agent Brent Commissiong spotted Missy and, along with MDAD Airside Agent Bonnie Sherwood's help, they were able to lure the timid, declawed cat into a crate. MDAD Airside Agent Elvin Hernandez reported the good news to Missy's owners and reassured them that their beloved cat would be reunited with them shortly. Missy was placed in the care of Swiss International Airlines Station Manager Jose Luis Pacheco and ultimately with Swiss World Duty Manager Ines Gutierrez, who took Missy home with her that night, fed and cared for her, and then drove Missy to Tampa the next day to be reunited with her family. In an email from Missy's owners, they stated, "It truly is an amazing story of good people (animal lovers) with big hearts who went out of their way to help us out. Thank-you doesn't even come close to the degree of gratitude and appreciation that we feel."

"MIA workers from different divisions and airlines came together to reunite Missy with her owners, demonstrating true customer service and compassion," said Miami-Dade Aviation Director Emilio T. González. "Many here at MIA were on the lookout for Missy and were overjoyed to see her safely reunited with her family. My gratitude and congratulations to all involved on being chosen Employees of the Month."
Members of MIA's Rewards and Recognition Committee and co-workers surprised the "team that rescued Missy" on the job on February 11 with a recognition celebration and presented them with their Employee of the Month certificates of appreciation. Winning the December Employees of the Month award makes them all eligible for MIA's Employee of the Year award, which includes a vacation getaway.