The Miami-Dade Aviation Department (MDAD), in conjunction with the Miami-Dade Fire Rescue Aviation Division (MDFR) and other emergency response agencies, successfully carried out a full-scale aviation emergency exercise yesterday at MIA with the help of more than 140 local volunteers. The drill fulfilled a Federal Aviation Administration (FAA) requirement to conduct a live, simulated emergency scenario on Miami International Airport's airfield every three years and is designed to test and evaluate the airport's emergency plan and the ability of emergency services to respond to a major incident.
"While customer service and expanding our global route network are high priorities at MIA, the safety of our passengers, employees and airport visitors takes precedence over all else," said Miami-Dade Aviation Director Emilio T. González. "This exercise was a valuable test for our first responders and airport personnel alike, and we will use the lessons learned to ensure we are fully prepared in the event of real-life airfield emergencies. In fact, although the FAA only requires us to carry out this sort of drill every three years, we intend to do so every year going forward in order to stay on top of our game. Miami-Dade Fire Rescue has again proven they have one of the best airport emergency response divisions in the country."
The drill scenario centered on a fuel fire igniting aboard a Boeing 727 aircraft as it approached the gate after an onboard medical emergency forced the Quito-New York flight to divert to MIA. Participating volunteers from the Miami-Dade County Office of Emergency Management, Design and Architecture Senior High (DASH), West Broward High School, Miami Dade College, the Miami-Dade Police Explorer program, the Boy Scouts of America and World Atlantic Airlines took on the roles of passengers, flight attendants and cockpit crew to ensure that the exercise accurately reflected a real-life scenario. Four new state-of-the-art Aircraft Rescue and Fire Fighting vehicles recently purchased by the Aviation Department were also used in the drill.
Firefighters from MDFR and other local fire departments evacuated victims from the smoke-filled aircraft, attended to injured passengers at the scene and airlifted some of them directly from the airfield to local hospitals via helicopter. The exercise also prompted MDAD to activate its Operations Center and coordinate a unified emergency response with partners that included MDFR, the Miami-Dade Police Department, the Federal Bureau of Investigation, the Transportation Security Administration, and U.S. Customs and Border Protection.
"MDFR trains and prepares every day to handle emergencies such as the one we had yesterday," said Miami-Dade Fire Rescue Chief Dave Downey. "This exercise allowed MDFR to demonstrate the capabilities of our highly skilled and professional men and women. Additionally, it allowed MDFR command staff to work collaboratively with representatives of police, aviation, airlines, and other emergency response personnel under a unified command."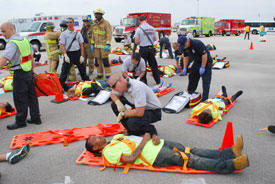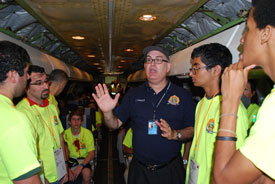 At left, fire rescue personnel attend to mock victims on the airfield.
At right, Miami-Dade Aviation Director Emilio T. González speaks with volunteers aboard the aircraft.
To download hi-res photos, go to http://www.miami-airport.com/photos.asp.