In advance of his trip to Washington, D.C. next week to meet with CBP and Department of Homeland Security (DHS) officials, Miami-Dade Aviation Director Emilio T. González met with U.S. Senator Marco Rubio today in Miami to discuss the urgent need for more federal CBP staffing at Miami International Airport, America's second-busiest port of entry.
"MIA is an international gateway airport, which benefits our state and local economy but also comes with challenges that must be addressed," said Senator Rubio. "DHS needs to ensure that adequate manpower is being provided to process international travelers."
In the past five years, international passenger traffic has grown faster at MIA than at any other major U.S. airport – 24.2 percent – and the global gateway handled more than 20 million international passengers in 2013, second only to New York's JFK Airport.
Despite this unprecedented growth, federal CBP staffing levels at MIA's passport control areas have failed to keep up, resulting in passenger wait times of up to two hours, long lines, missed flight connections and the complete closure of one MIA's three passport control area.
In light of CBP's inadequate staffing levels, MIA has made good faith efforts to minimize the negative impacts to international arrivals at the airport, including: investing more than $180 million in a new 400,000-square-foot state-of-the-art federal inspection services (FIS) facility in the North Terminal; installing 36 automated passport control (APC) self-serve kiosks at a cost to the Department of $3.5 million to increase the productivity of CBP; and increasing MDAD staffing in the FIS at an annual cost of $524,000 to provide passenger assistance and crowd management. In a final attempt to mitigate the severe CBP staffing shortages, MDAD is voluntarily participating in the CBP reimbursable fee agreement pilot program and has allocated $6 million to reimburse CBP for overtime staffing above and beyond currently authorized levels."I'm grateful to Senator Rubio for his time today and for supporting MIA's push for CBP staffing levels that meet the needs of our airport and our valued customers," said Director González. "The Senator understands that the status quo at our CBP facilities – hours-long waits for passengers, long lines and inadequate federal customs staff – are simply not acceptable."
Senator Rubio – along with Senator Bill Nelson, Congresswoman Ileana Ros-Lehtinen and the entire South Florida congressional delegation – has already shared his concerns about MIA's understaffed passport control areas with Department of Homeland Security Secretary Jeh Johnson, calling for more federal CBP staffing at Miami-Dade County's leading economic engine.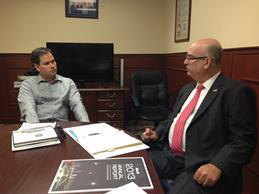 U.S. Senator Marco Rubio, left, and MDAD Director Emilio T. González discuss the U.S. Customs and Border Protection (CBP) staffing shortage at MIA
To download hi-res photos, go to http://www.miami-airport.com/photos.asp.