Miami International Airport celebrated its newest international route on Saturday with the launch of direct service to Brussels by Belgian low-cost carrier Jetairfly. The twice-weekly service for Jetairfly's first U.S. route will operate on Saturdays and Mondays utilizing a Boeing 767-300ER aircraft in a two-class, 257-seat configuration. Brussels, a major center for business, culture and government in northwestern Europe, is the capital of the European Union and represents MIA's 15th destination on the continent.
Officials from the Miami-Dade Aviation Department (MDAD), Jetairfly and the Greater Miami Convention and Visitors Bureau (GMCVB) marked the special occasion with a water-cannon salute by Miami-Dade Fire Rescue for the inaugural arrival, a ceremonial ribbon-cutting and commemorative cake for passengers on the inaugural departure. On hand for the celebration were: MDAD Director Emilio T. González; Jetairfly Director of Network and Revenue Management Erik Follet; and GMCVB President and CEO Bill Talbert.
"We're honored that Jetairfly has chosen MIA as their first U.S. destination and we look forward to welcoming visitors and business travelers from Belgium and other parts of Europe to our community," said González. "The Brussels-Miami connection is a very fitting one, as it links two prominent regional cities together: the political capital of the European Union and the Gateway of the Americas, the geographic and commercial hub that ties together the U.S., Latin America and the Caribbean."
Jetairfly is the first of several new international carriers that will launch scheduled and charter service at MIA in 2014. The list also includes Air Europa, Boliviana de Aviación, InselAir Aruba, Qatar Airways and Finnair.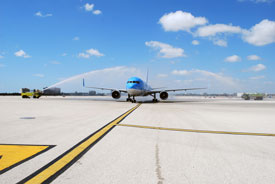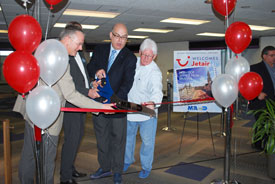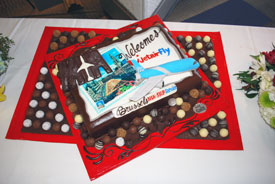 At left, Jetairfly's inaugural flight from Brussels, Belgium arrives at MIA to a traditional water cannon salute. At center (l to r), Jetairfly Chief Communication Officer Hans Vanhaelemeesch, Jetairfly Director of Network and Revenue Management Erik Follet, MDAD Director Emilio T. González and GMCVB President Bill Talbert cut the ribbon. At right,a choloate-laden cake to mark the special occasion.