Miami-Dade Aviation Director Emilio T. González hosted ACI-NA President and CEO Kevin Burke at Miami International Airport on Friday, using the visit to forge a strong working relationship with the recently appointed head of the world's oldest international airport owners and operators organization. Washington, D.C.-based ACI-NA's stated mission is "to advocate policies and provide services that strengthen the ability of commercial airports to serve their passengers, customers and communities." Burke's fly-in visit included a meeting with González and senior airport staff and a tour of MIA's North Terminal Federal Inspection Services facility.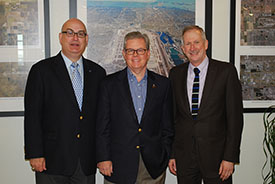 Left to right, Miami-Dade Aviation Director Emilio T. González, ACI-NA President and CEO Kevin Burke, and Deputy Aviation Director Ken Pyatt.
Hi-res version of this photo is available on request.
The group discussed a range of issues with Burke, including the lineup of new international air carriers poised to launch service at MIA and further boost the global gateway's strong international passenger numbers. Another major topic of conversation was MIA's efforts to secure additional U.S. Customs and Border Protection (CBP) officers to staff the airport's passport control areas. MIA has
experienced an impressive 30 percent increase in international passenger traffic over the past six years. Following a concerted bipartisan effort by both of Florida's U.S. senators and the South Florida congressional delegation – and with strong support from Miami-Dade County Mayor Carlos A. Gimenez – CBP has committed to adding 60 additional officers at MIA in approximately 12-18 months.
"I'm grateful to Mr. Burke for taking the time to come down from Washington to visit MIA and get a firsthand look at the many successes and unique challenges our global gateway is experiencing," said González. "ACI-NA is a powerful advocate for airports across the continent, including MIA, and we look forward to working with them to promote our interests in the nation's capital and beyond."
ACI-NA is the largest of Airport Council International's five world regions and represents airports that enplane in excess of 95 percent of the domestic passenger traffic and virtually all of the international airline passenger and cargo traffic in North America. Globally, ACI advocates for airports in all major world regions: Africa, Asia-Pacific, Europe, Latin America & the Caribbean and North America.