Miami International Airport celebrated the arrival of its newest international carrier on Friday with InselAir Aruba's inaugural flight to MIA from Oranjestad, Aruba. The carrier will operate four scheduled weekly roundtrip flights to the Caribbean nation on Mondays, Thursdays, Fridays and Sundays utilizing MD-80 aircraft and hopes to increase frequency in the near future.
"InselAir Aruba's service to MIA furthers Miami-Dade County's access to our neighbors in the Caribbean, solidifying our gateway status to the region," said Mayor Carlos A. Gimenez. "We welcome InselAir Aruba and look forward to their continued presence in our community."
The Miami-Dade Aviation Department (MDAD) welcomed InselAir Aruba's inaugural arrival with a water-cannon salute provided by Miami-Dade Fire Rescue. Additionally, MDAD Chief of Staff Joseph Napoli joined InselAir Aruba CEO Frederick Nuboer, passengers, and flight crew members from the inaugural flight for a celebration of the new air service at MIA's Consular Lounge.
"We enthusiastically welcome InselAir Aruba as our newest international airline partner," said Miami-Dade Aviation Director Emilio T. González. "MIA offers more flights to the Caribbean than any other U.S. airport, and this new service represents another strong option for passengers who want quick, easy access to this beautiful region."
InselAir Aruba is the latest of several new international carriers launching scheduled and seasonal service at MIA in 2014. Jetairfly's new direct service to Brussels, Belgium started on April 5, and Boliviana de Aviación, Air Europa, Qatar Airways and Finnair will also be launching new MIA service this year.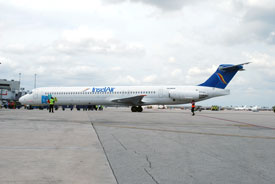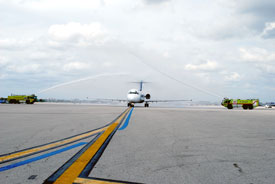 At left, InselAir Aruba's inaugural flight from Oranjestad, Aruba arrives at MIA to a water cannon salute. At right, the aircraft makes its way to the gate.