South Terminal Gallery

Miami-Dade Aviation Department
Miami International Airport
Division of Fine Arts & Cultural Affairs
Presents
TOKYO-GA
The City of Tokyo in Five Chapters
South Terminal International Arrivals Lobby, 3rd level
Opens August 24, 2016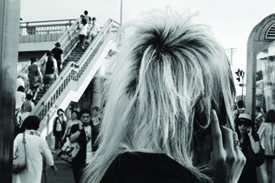 TOKYO-GA originated as an internal response to the devastating natural disasters that occurred in Japan in 2011. Launched in 2011, the TOKYO-GA project aims to gather a portfolio of photographs of Tokyo by Japanese and international photographers as a sign of commitment to Japan and its future. This exhibition consisting of 49 images from 24 contemporary photographers is organized according to five themes: Invisible Existence, Ensemble C'est Tout, Fragments of Life, Texture of Mind and Human Scale - presenting an overview of the architecture of the Japanese capital, its street photography, its contemporary styles and its way of mind, revealing the complexity and the contrast between tradition and modernity of the country.
TOKYO-GA at Miami International Airport (MIA) is the first exhibition devoted to Japanese culture at MIA and a wonderful occasion to further understanding and recognition of Japanese culture in not only the South Florida community, but to world-wide regions served by MIA.
Participating artists: Navid Baraty, James Whitlow Delano, Renato D'Agostin, Michel Frapier, Naoki Honjo, Taishi Hirokawa, Gentaro Ishizuka, Junpei Kato, Haruna Kawanishi, Yasutaka Kojima, Ilse Leenders, Edward Levinson, Christopher Morris, Mitsugu Ohnishi, Koji Onaka, Takehito Sato, Tatsuya Shimohira, Vincent Soulié, Jérémie Souteyrat, Masayoshi Sukita, Takeshi Sumi, Yukinori Tokoro, Michael Wolf, Masami Yamamoto, and Hiroshi Yoda.