South Terminal Gallery

Miami-Dade Aviation Department
Miami International Airport
Division of Fine Arts & Cultural Affairs
Presents
Hands of Korea
Curated by Chunghie Lee and Yolanda Sánchez
Opens June 2015
South Terminal Gallery, 3rd floor and 4th floor Mezzanine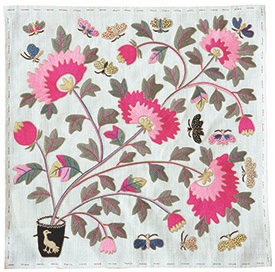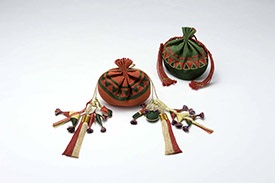 Heesoon Kim, Peony Bojagi, 2013; Jaeeun Kim, Quilted Duru Joomoni, 2011
The 2015 Hands of Korea exhibition at Miami International Airport presents Korean craft culture through a range of traditional objects and contemporary reinterpretations in a variety of media. An array of tradition‐based Korean fiber/textiles in the form of embroidery works, antique and contemporary Bojagi (wrapping cloths), traditional and contemporary Norigae (knotted ornaments), and Joomchi (traditional Korean method of papermaking) are represented by 28 Korean artists. Other mediums include hand sewing, hand/machine embroidery, natural dyeing, digital printing, tapestry weaving and quilting.
Recognized for its innovative design and creativity, Seoul, Korea was named "World Design Capital" by UNESCO in 2010. Since then, the arts have continued to flourish, firmly establishing Korea as a leader in the contemporary art world. Our goal is to deepen an appreciation of Korean culture and increase awareness of the richness of Korean arts.
For more information on this exhibition, please contact the Miami-Dade Aviation Department's
Division of Fine Arts and Cultural Affairs at 305-876-0749.